Please find below the latest information regarding the current Coronavirus outbreak.
Since our last email the Coronavirus situation has developed fast – now covering all continents and with a host of flight and tour cancellations, plus various measures put in place by authorities across the globe.
We are in regular communication with tourism partners including VisitBritain and it is becoming more important for us to report back on how businesses in North Wales are being affected and the potential consequences on domestic and international visitors going forward into 2020. The information that you supply may help to leverage the development of a recovery plan.
We are therefore asking our businesses to share with us in confidence any information from the ground regarding if and how this may be affecting your business.
Have you seen any impact at this stage in travel and booking behaviour?
Do you have a plan in place if a visitor arrives to your accommodation and develops symptoms of coronavirus?
This may include bookings, cancellations, day to day operations, communications with group tour operators etc. If you forward monetary values these will also be treated in the utmost confidence.
The information already provided by you has been used to write to Public Health Wales with some specific questions and seeking further advice. They have confirmed they will look into the situation for us and we will forward their reply once received. In the meantime please visit their website (https://www.nhs.uk/conditions/coronavirus-covid-19/) particularly in relation to the 'Do's' and 'Don'ts' which we recommend following at all times.
Please check the list of countries on the list on the NHS website to see if you have recently visited any countries they currently name as having health implications for visitors. The list is on the NHS website at https://www.gov.uk/government/publications/covid-19-specified-countries-and-areas/covid-19-specified-countries-and-areas-with-implications-for-returning-travellers-or-visitors-arriving-in-the-uk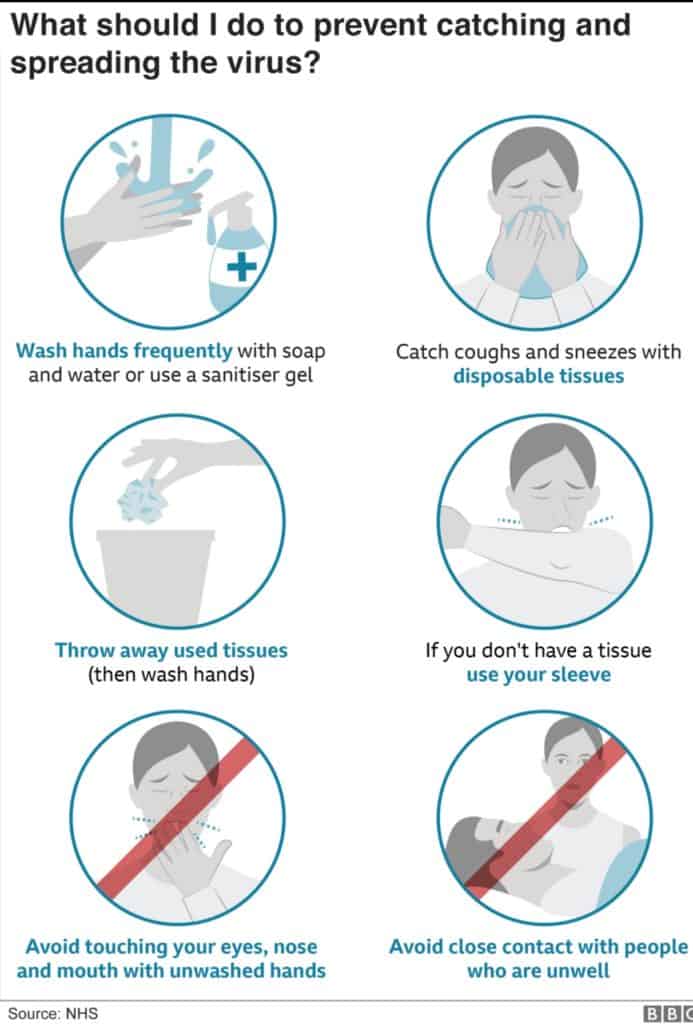 VisitBritain also has a comprehensive update on their website.
We would be grateful if you could communicate your feedback to us by emailing eirlys.jones@nwt.co.uk.
In the UK Budget announcement last Tuesday at Westminster, there was a package of measures to aid the tourism industry following the Covid-19 pandemic. This included a 12 month business rates holiday for premises with a rateable value below £51,000. As I am sure you are aware, rates (and tourism) are devolved issues so this does not automatically apply in Wales.
Message from the Chair of NWT – Chris Frost
I have been lobbying the First Minister, Mark Drakeford, the Finance Minister, Ken Skates and Dafydd Elis-Thomas, Minister for Tourism to see when the Welsh Assembly Government would be making their own announcement offering similar kinds of support to our industry in Wales as it is in England, and such as was announced for Scotland yesterday ; I received an e-mail from Ken Skates lunchtime Friday stating that an announcement would be made within a 'few days' about the measures to be undertaken by the WAG to support our industry.
As of 1.30pm today there is still no news from WAG apart from the measures being taken for Development Bank of Wales customers made this morning.
(https://gov.wales/businesses-offered-capital-repayment-holidays-help-manage-coronavirus-impact)
The situation is changing it would seem almost daily and we can't just sit around waiting for the WAG to formulate an approach. If by 5pm today no further announcement is made from WAG regarding this issue I will be sending a strongly worded letter to the three AM's listed above.
As a concerted effort, I would ask that if after 5pm today no announcement is made, we could formulate a targeted approach to lobbying our AM's and also MP's (whilst this is a devolved issue, Scottish MP's successfully lobbied the Scottish Parliament to reach their conclusions through Twitter and media interviews).
I am coordinating with Pembrokeshire Tourism, Carmarthenshire TA & Swansea Bay TA to bring the WAG to make their announcement at the earliest opportunity.
I appreciate that a £51,000 cap does not affect all our members, but I would hope that once they have agreed to this and if the situation were to decline, then further Business Rate Relief will be applied to the industry as a whole.
I appreciate you all have your own businesses to run – we've had about £5k of cancellations today!!!- but if you can spare the time to e-mail, or tweet/re-tweet then that would be great!
Advice for Employers and Employees
For advice for employers and employees regarding coronavirus please visit Acas website – https://www.acas.org.uk/coronavirus