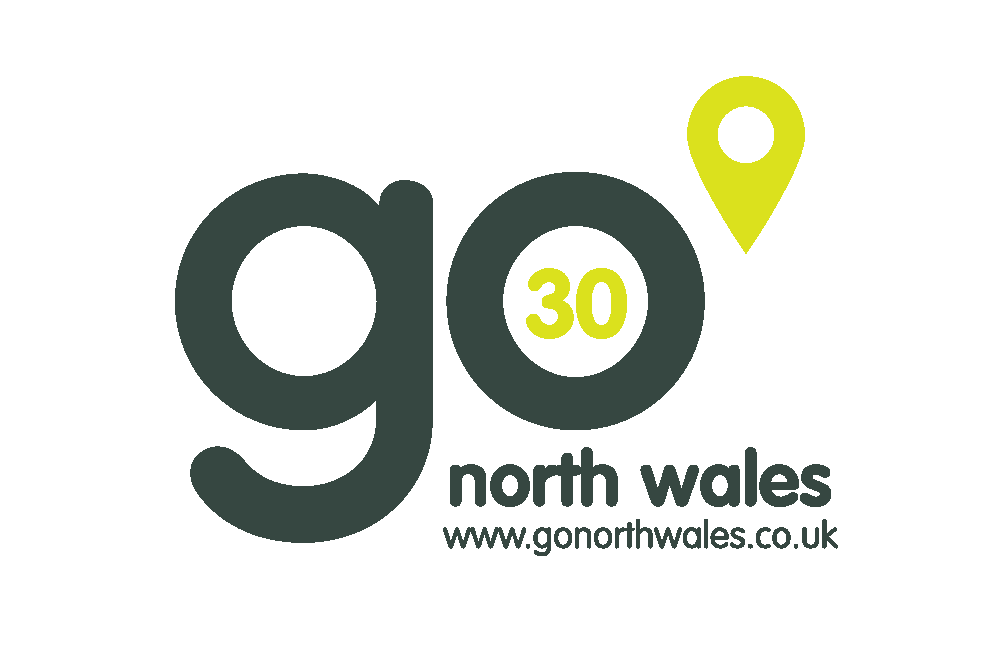 We appreciate that it remains to be an extremely difficult, worrying and complex time for many businesses and individuals across North Wales with the COVID-19 pandemic but please remember that we are here to support you.
If you have any questions/queries please do not hesitate to contact us, by email (contacts below), social media channels, online chat on the Trade website or phone. Please email jim.jones@gonorthwales.org.uk; eirlys.jones@gonorthwales.org.uk or deborah.nettleton@gonorthwales.org.uk with any issues etc you may have.

Please also make sure that you are kept up to date with all the information as they happen by visiting our Trade site www.northwalestourism.com and following us on our NWTBiz social media platforms (facebook and twitter), all of which are regularly updated.
Keep safe, we're in this together.
New Vice-Chair for North Wales Tourism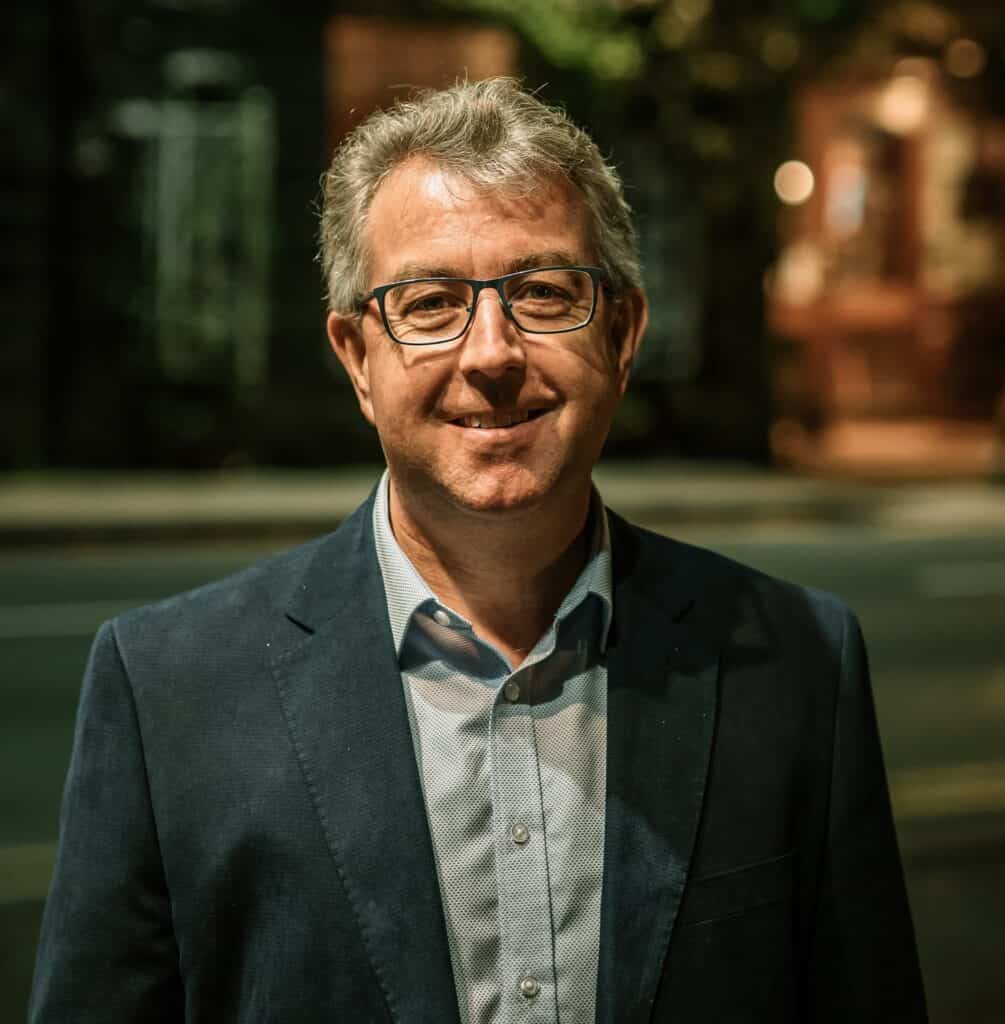 North Wales Tourism is pleased to announce that Glenn Evans, Director of the Royal Oak and Waterloo Hotels in Betws y Coed has recently been appointed the Vice Chair of North Wales Tourism.

North Wales Tourism, celebrated their 30th anniversary in 2021, the organisation represents approx 1500 tourism & Hospitality businesses in North Wales.

Chris Frost the Chairman said:
"It is a great pleasure to welcome Glenn to the position of Vice-Chair of North Wales Tourism; he has been a valued member of the board for a number of years and his breadth of experience in the industry, especially as one of the largest employers in tourism here in North Wales, will be a fantastic asset for all the team here at NWT."

We have a full knowledgeable and experienced board to move forward into 2022:

Chris Frost, Manorhaus Ruthin and Llangollen
Glenn Evans, Royal Oak and Waterloo Hotels, Betws y Coed
Tansy Rogerson, Armadillo Events
Frankie Hobro, Anglesey Sea Zoo, Brynsiencyn
Lucy Miller, Llanfair Hall, Llanfairpwll
Nicky Williamson, The West Arms, Llanarmon Dyffryn Ceiriog
Marc Viercant, Cae Mor Hotel, Llandudno
Michael Bewick, JW Greaves, Blaenau Ffestiniog
Justin Everley, Knights Construction, Wrexham
Adrian Barsby, Barsby Associates
Ruth Higgin, Ty Mawr Tea Rooms and B&B, Llanddeiniolen
Tanya Keith, The Management Centre, Bangor

Attached is a plan on how we plan to continue to promote North Wales as the Adventure capital and move forward to address 'under-tourism' in a sustainable way.
Website listing – Updating your Details
Your individual listing on our website is your main opportunity to present your business to the public. However, like any advertising it must be regularly maintained to ensure that it is correct, current and really works for you.
When did you last check it?
When did you last update it?
Are your pictures great?
Is your listing better than that of competitors?
Please login and update your entry on http://update-my.gonorthwales.info. If you have forgotten your password please click on the "forgotten your password" link and enter your registered email address (to reset). If you can't remember your registered email address, please call 01492 531731 (option 5) and ask for a member of the digital team alternatively email digital@gonorthwales.org.uk or visit https://northwalestourism.com/go-north-wales/update-your-go-north-wales-listing/ for assistance with updating your details
Facebook/Twitter – Do you Follow Us
Don't forget, if you are on social media you can follow us on both Facebook, Twitter and Instagram @nwtbiz @gonorthwales – so if you have content that you would like us to share, let us know and we'll promote it to our audience! If possible please link to our destination platforms in your posts so that we can see you and share. Social Media and digital marketing are very important parts of the modern marketing mix and a great way to get your business promoted. Remember, we can't share your social media stories if we don't know about them.
NWTBiz Facebook Forum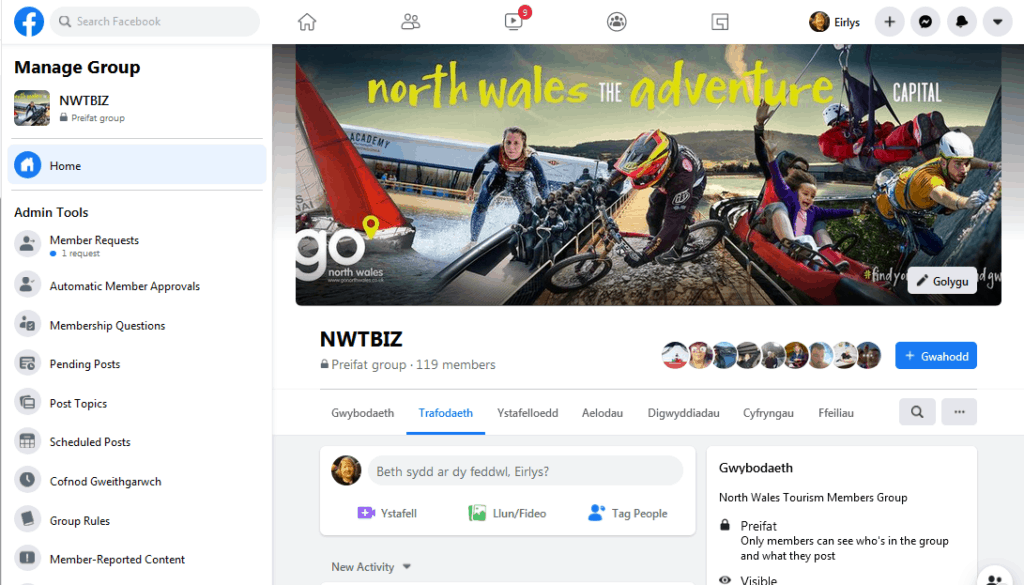 We have a closed Facebook group specifically for members where you can discuss issues, ask for help as well as support each other in our collected aim to make our region one of the top UK tourist destinations. You will need to request to join this by searching NWTBiz and we will accept you as a member.
Special Offers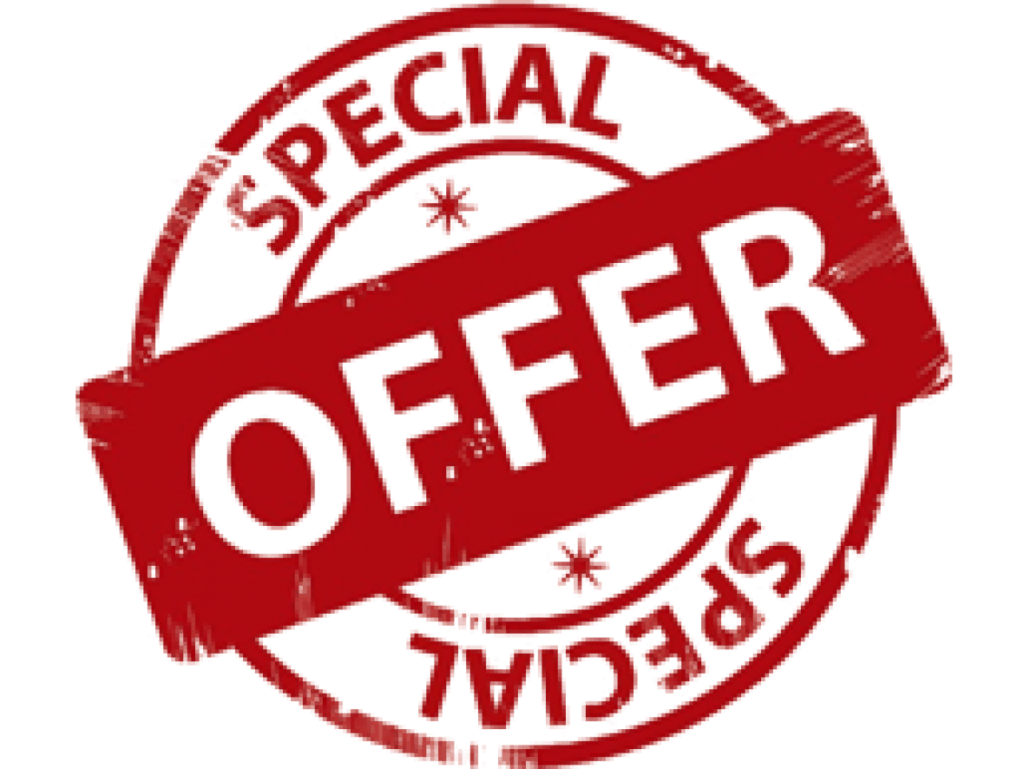 All members can create special offers at no cost. They show on the special offers page on the gonorthwales website and it is another sales opportunity that is free to use. At present this facility is under used. If you would like to submit your offer to include on our website please follow the link http://submit-offer.gonorth.wales/
Banner Adverts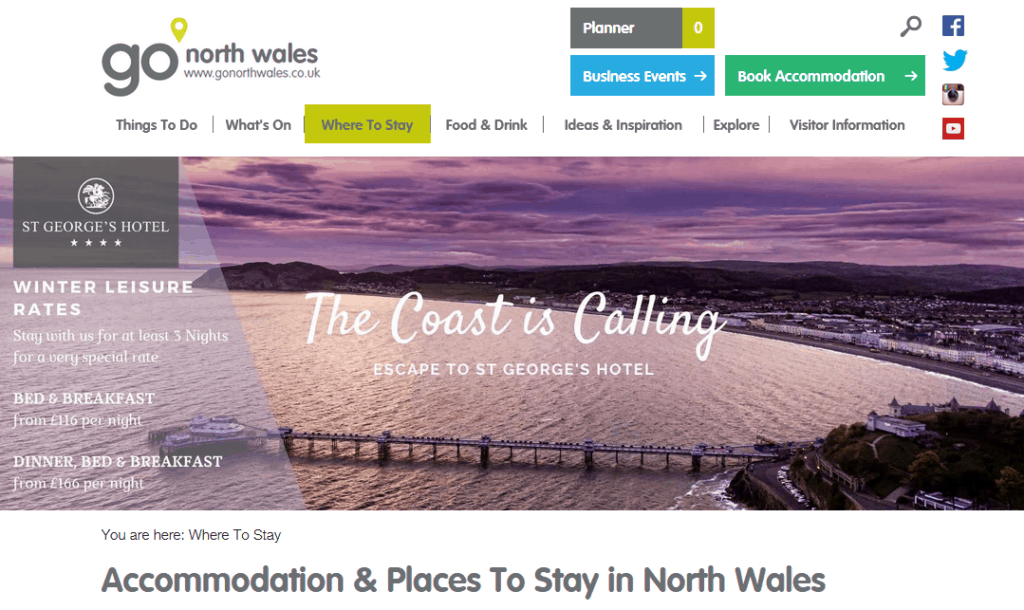 These are adverts, separate from your normal web listing that show on the home page and the sub- pages. Adverts cost from £200 and when clicked the user is taken to a location defined by the advertiser, usually the member's own website, rather than your page on our site. For further information on banner advertising please contact digital@gonorthwales.org.uk.
Let's Keep In Touch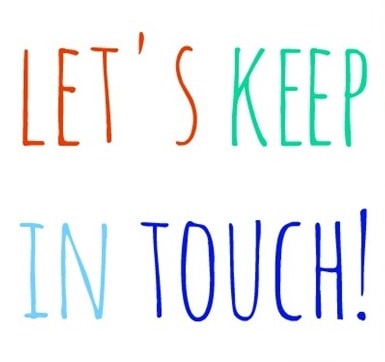 Our main means of communication with you, our members, is by email. We send out regular email messages to all members or to specific sections of the membership. We try to restrict the number of emails to key topics but also send out regular newsletters covering minor topics. Old copies of newsletters are available online.
In addition to emails, we post short-term news on our closed Facebook Group.
The members website is another important source of information. Do look at it regularly for information on training courses, offers and discounts, forthcoming meetings and reports on past meetings. You will also find information about membership, managing your web page, details of the Board, latest research documents and strategies and much more.
Tell us your news
Do keep us informed about your business.
If you send out press releases or newsletters, do ensure that we are on the distribution list – digital@gonorthwales.org.uk
Tell us about business developments, any new plans you may have and your successes.
Obviously we like to hear what you are doing, but more importantly we use the information to promote your business and the area in the following ways, all of which are free to you.
Social Media
We have a news page on our website. We are regularly publishing articles each week and most are news from our members.
Inclusion in our regular members' newsletters
Tourism Host – Behind the Scenes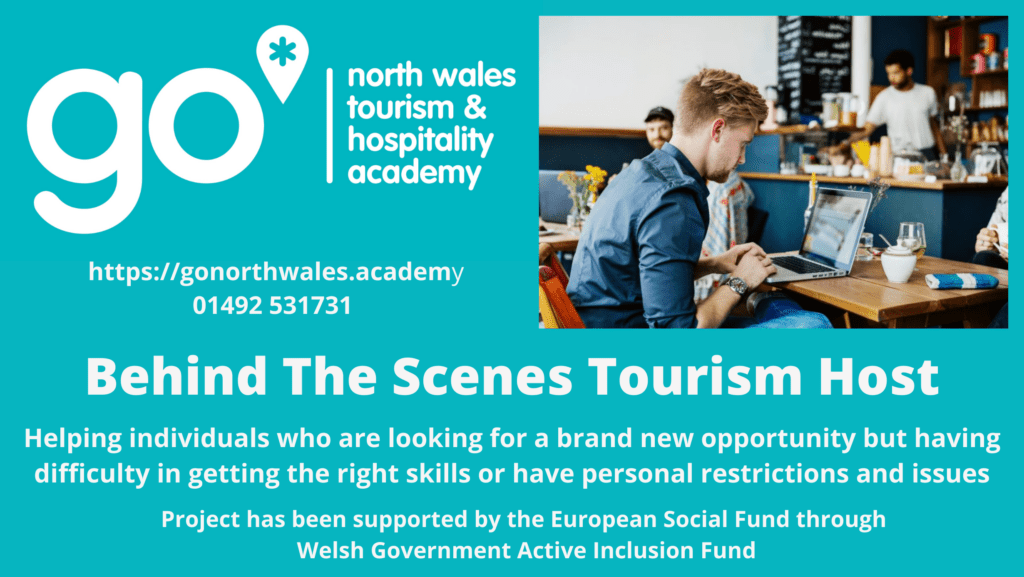 If you are in the counties of Denbighshire, Conwy, Gwynedd or Anglesey we invite you to become a Tourism Host for the Go North Wales Tourism Hospitality Academy.
Go North Wales Tourism Hospitality Academy has been successful in being awarded funding from the WCVA Active Inclusion fund to provide individuals who are currently out of work and over the age of 25 with an opportunity to enter onto a pathway towards sustainable employment within the Tourism and Hospitality sector through support training and skills development programme.
We would like to invite you to become a Tourism Host on behalf of the Academy. Our aim is to help individuals who are looking for a brand new opportunity but having difficulty in getting the right skills or have personal restrictions and issues.
All we require from you is that you will be willing to spend a short period of time at your business to allow our candidates to visit and understand the different type of job roles within the sector. This will help greatly with their understanding of the opportunities that may be available.
For further information please click here
Meet North Wales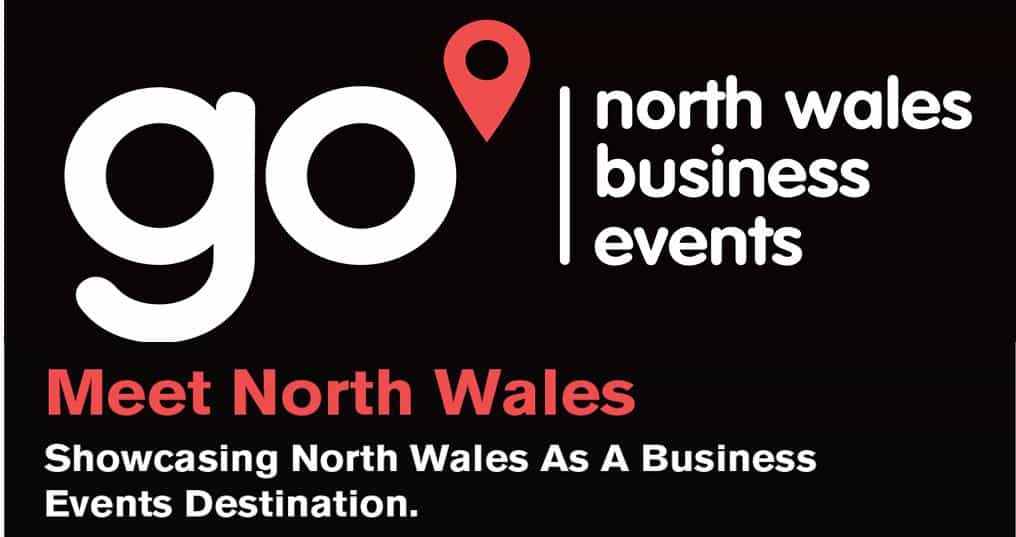 With restrictions easing and venues slowly opening up again, the team at Meet North Wales are receiving an increasing number of enquiries from organisers considering North Wales to host their event. The team successfully bid for Llandudno to host next month's MIA Destination Summit highlighting the area's ideal situation and amenities for meetings, incentives and events.

Raise your business' profile today and contact us to discuss the opportunities available by emailing info@meetnorthwales.co.uk or calling 01492 531731 to speak to Kirstin Aram, Business Events Co-ordinator.
North Wales Tourism Distribution – Put your Business in the Spotlight for 2022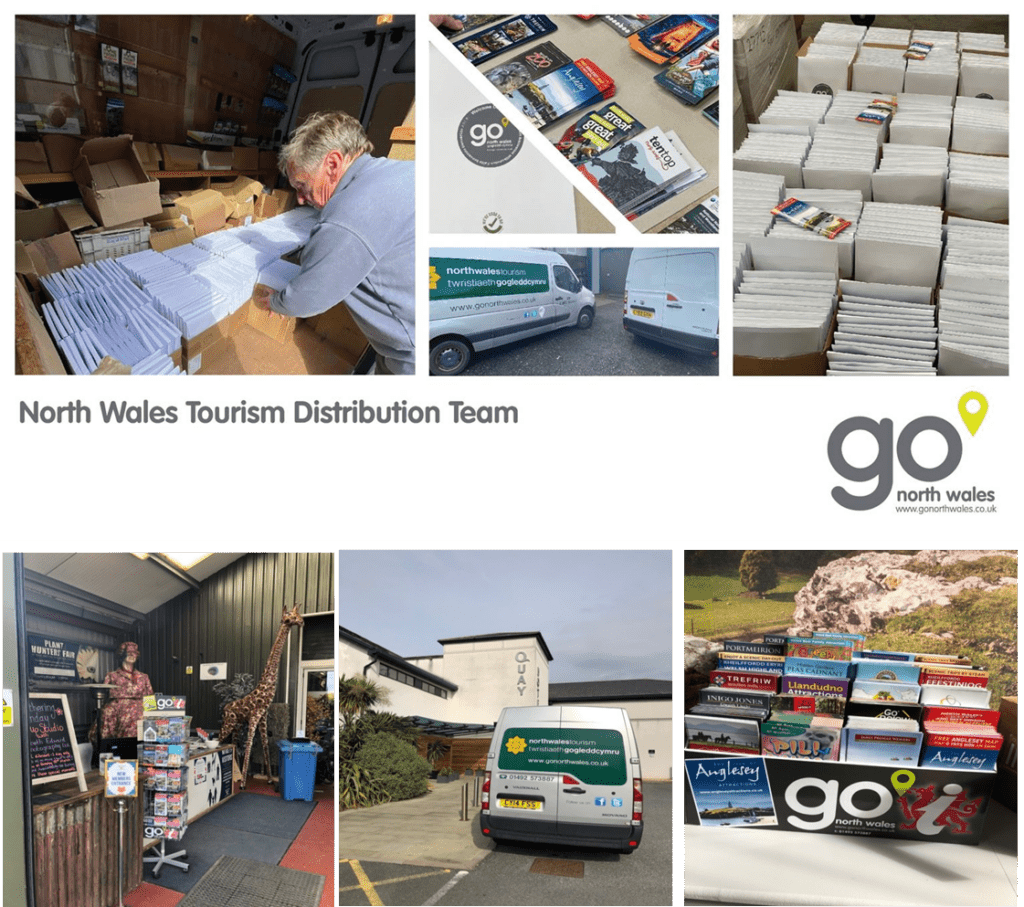 Our leaflet distribution service delivers over 3 million pieces of print to points across North and Mid Wales making sure that our attraction and activity businesses get the best exposure possible. The service provides:
A 12 month fully comprehensive leaflet distribution service for tourism attractions, activities and events
Advice on specific target areas across North & Mid Wales and parts of North West of England
Highly versatile range of leaflet display systems designed to meet customer requirements including wall mounted and free standing racks plus table top units
On-line reporting (password protected) tool to evaluate effectiveness of your distribution performance.
If you have not yet booked your distribution for 2022 season please contact a member of the distribution team on 01492 573887 or to book your distribution space please click here
Recruitment Challenges Survey
Go North Wales are working with DWP to gather feedback on what is required by the industry to assist with future recruitment challenges.

Please see link to the short survey : https://www.surveymonkey.co.uk/r/MNPXTFY
People and Places Project – Cael Cymru
North Wales Tourism are working with COS (Centre of Sign Sight Sound), a disability charity based in Colwyn Bay which works to help tackle social exclusion.
The Cael Cymru programme is a two year funded project:
To produce 40 accessible videos of various places of interest across North Wales (at no cost to the site owners) where written English and Welsh are not the languages needed for people who wish to access the information.
To provide free and subsidised training to frontline staff in the leisure and tourism industry of dealing with people with a sensory loss or information access need.
Full details about the project is available on the link below or you can contact the Centre of Sign Sight Sound Direct at info@signsightsound.org.uk or 01492 530013 to discuss further.
https://northwalestourism.com/trade-updates/people-and-places-project-cael-cymru/
Call on Chancellor to hold vat at 12.5%
Many business leaders from the hospitality and leisure have already written to the Chancellor, Rishi Sunak, urging the Government to keep VAT at 12.5% beyond March 2022. They call on the Treasury to maintain the current level to enable many fragile businesses to continue their recovery, to protect jobs, and to help stave off higher inflation in the economy.
To support this NWT are asking as many hospitality and tourism businesses to support the UK Hospitality with their #VatsEnoughCampaign by writing to your local MPs.

A template letter for businesses to send to their MP will mean that within 2 minutes businesses will be able to easily find their MP and edit the letter to personalise it before sending.

https://www.ukhospitality.org.uk/page/vatsenoughcampaign
Next step in development of tourism tax
The Welsh Government has confirmed a consultation on proposals for a local visitor levy will launch in autumn 2022.
The Welsh Government's Programme for Government, and the Cooperation Agreement between the Welsh Government and Plaid Cymru, both contain commitments to introduce levies.
Formal consultation on draft legislative proposals for a visitor levy will launch in the autumn, providing a platform for a range of views to be considered.
https://gov.wales/next-step-development-tourism-tax
https://gov.wales/written-statement-development-local-tourism-levy
Smoke-free law changes from 1 March
New smoking laws are being introduced in Wales which affects the tourism industry.

From 1 March 2022, all hotels, guesthouses, inns, hostels and members' clubs must be smoke-free and will no longer be able to offer designated smoking bedrooms.

All self-contained holiday and temporary accommodation, such as cottages, caravans, chalets and other short term lettings accommodation will also be no smoking. Owners should therefore have prepared for conversion any of their smoking accommodation/designated smoking bedrooms to smoke-free ready for 1 March 2022 – after this date it will be against the law to smoke in these areas and a fine could be issued.

Further information on how these changes affects the tourism industry can be found on https://gov.wales/smoke-free-law-guidance-changes-march-2021-html#section-58258
Virtual Employment Law Update
Virtual Employment Law Update 8th March 2022 hosted by Supertemps and S2 Recruitment with guest speakers Simon Bloch and Paul Chamberlain from JMW Solicitors LLP.
Areas covered include:
Developments in holiday pay
Working from home/hybrid working – legal issues
'No jab/no job' – mandated vaccinations
Digital right to work checks
A roundup of important case law over the last year
Tuesday 8th March 2022, 10am – 11.45am – Book via the link below
The webinar is aimed at HR/personnel directors and managers, business owners and those in charge of staff.
https://www.eventbrite.co.uk/e/employment-law-update-2022-tickets-255994986897
Visits to tourist attractions: 2019 and 2020
The report monitors trends in the tourism attraction sector for 2019 and 2020 in order to provide a greater understanding of the sector.

Attractions taking part in both the 2019 and 2020 survey saw visits decrease by 68% on average from 2019 to 2020. Underground attractions saw the largest decrease and outdoor attractions the smallest decrease from 2019 to 2020.

https://gov.wales/visits-tourist-attractions-2019-and-2020
Lord Burns to lead North Wales transport review
A new transport commission that will develop a pipeline of transport schemes for North Wales has been announced
The year-long review will develop recommendations for road, rail, bus and active travel across the whole of North Wales.
This step follows on from the advice of the Roads Review Panel to cancel current plans for the A55 Junction 14/15 and 16/16A improvements scheme, which Ministers have agreed. It has also now been agreed which further schemes the Panel will consider as part of their final report due this summer.
https://gov.wales/lord-burns-lead-north-wales-transport-review
https://gov.wales/written-statement-roads-review-initial-report-and-north-wales-transport-commission-a55-j14-16