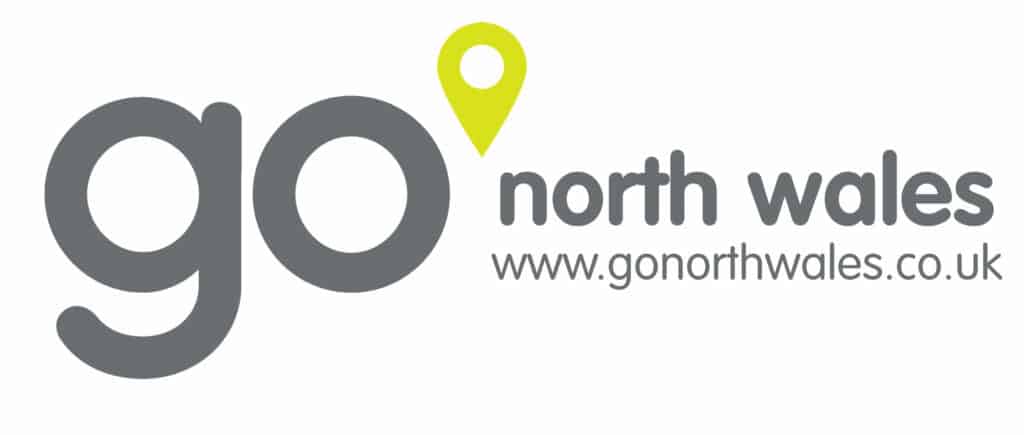 North Wales Tourism have and are still working hard on behalf it's members on issues that are affecting the industry.
We are in constant contact with the local MSs and MPs on these issues and are also lobbying side by side and working closely with the Wales Tourism Alliance to drive forward the importance of the industry to the economy of Wales and the effects and implications of these issues on the businesses and industry as a whole. We are also working closely with the local press and media to raise the issues affecting us to make sure the voice of our valuable industry is heard.
Amongst the issues we have undertaken are:
182 Threshold for Self Catering
Second Homes
Visitor Levy
Statutory Licensing
Reform of School Year
If you have any questions/queries please do not hesitate to contact us, by email (contacts below), social media channels, online chat on the Trade website or phone. Please email jim.jones@gonorthwales.org.uk; eirlys.jones@gonorthwales.org.uk or deborah.nettleton@gonorthwales.org.uk with any issues etc you may have.

Please also make sure that you are kept up to date with all the information as they happen by visiting our Trade site www.northwalestourism.com and following us on our NWTBiz social media platforms (facebook and twitter), all of which are regularly updated.
---
Go North Wales Tourism Awards 2023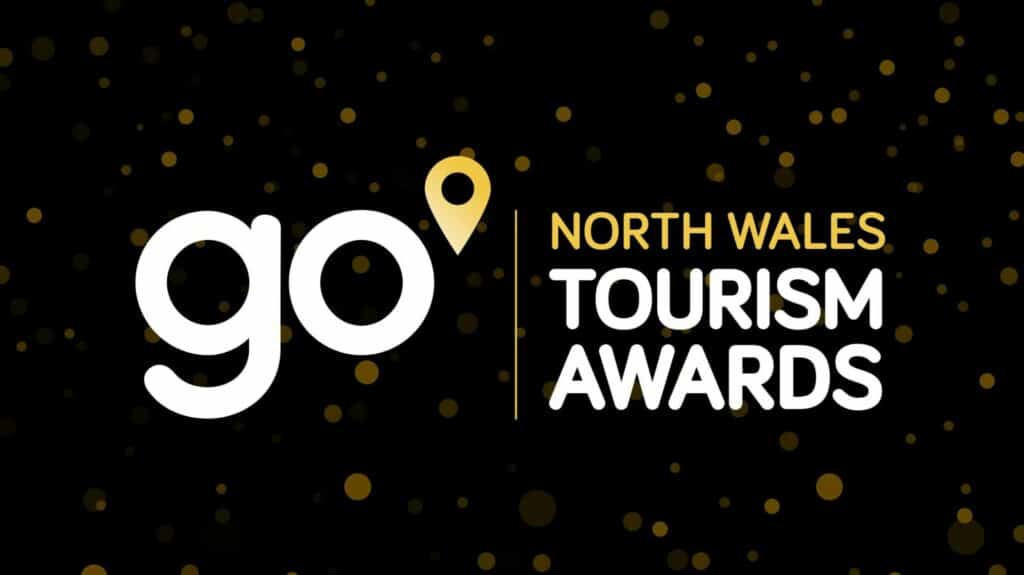 The seventh Go North Wales Tourism Awards will be held on Thursday 23 November at Venue Cymru, Llandudno to celebrate and recognise excellence and outstanding achievement by our businesses and individuals working in the tourism hospitality sector of North Wales.
Full list of the shortlisted finalists are now available on the website to view.
For all details on the awards including how to join us on the Awards evening please visit https://gonorthwalestourismawards.website.
---
Website listing – Updating your Details
Your individual listing on our website is your main opportunity to present your business to the public. However, like any advertising it must be regularly maintained to ensure that it is correct, current and really works for you.
When did you last check it?
When did you last update it?
Are your pictures great?
Is your listing better than that of competitors?
Please login and update your entry on https://extranet-wales.newmindets.net/ If you have forgotten your password please click on the "forgotten your password" link and enter your registered email address (to reset). If you can't remember your registered email address, please call 01492 531731 (option 5) and ask for a member of the digital team alternatively email digital@gonorthwales.org.uk or visit https://northwalestourism.com/go-north-wales/update-your-go-north-wales-listing/ for assistance with updating your details
---
Late Availability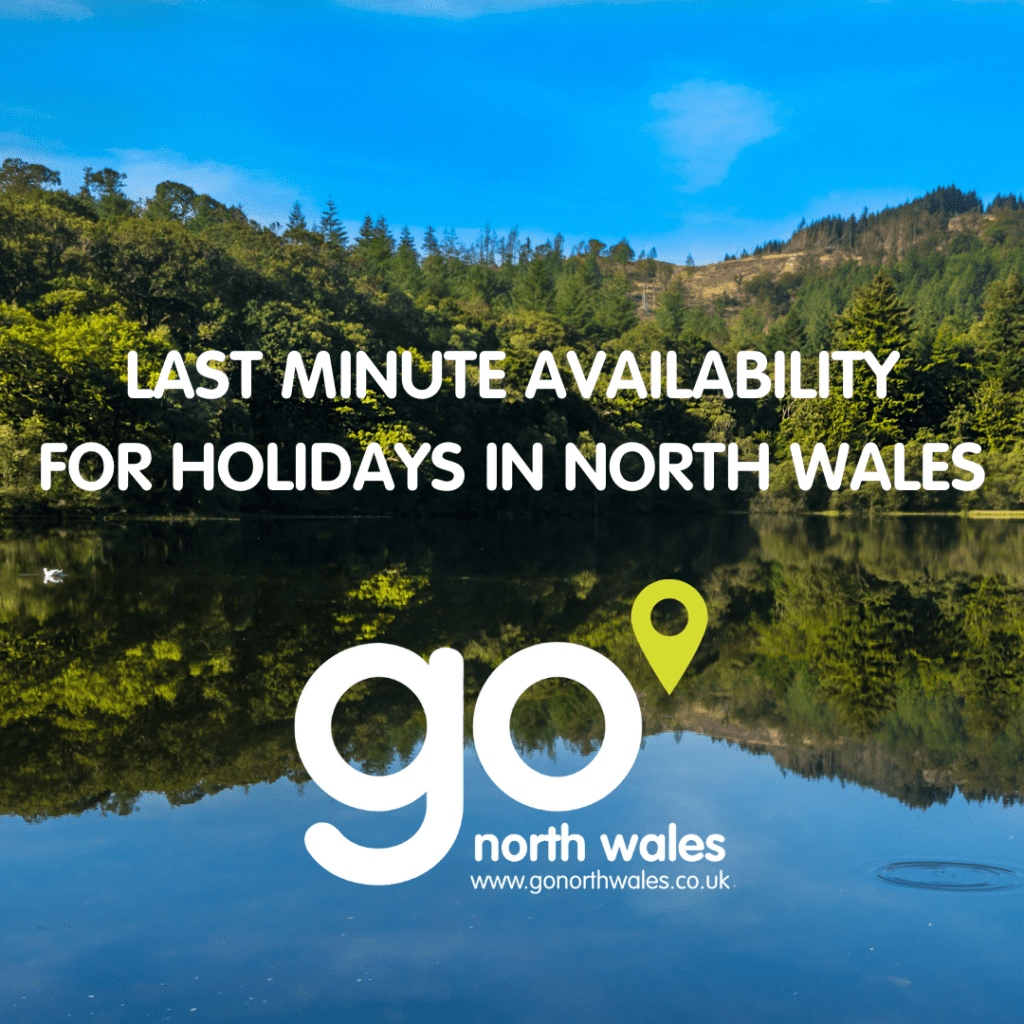 Let us help you promote any late availability or midweek deals.
All you have to do is complete the short form here: https://northwalestourism.com/late-availability-form/
Visitors will be able to search through all late availability dates by location and property type from the Go North Wales website. This will also be promoted across our social channels.
---
Promote your Events
Are you hosting an event in North Wales? Would you like to have exposure on our events section for free? Simply fill out the form on the link below and your event could appear on our webpage.
---
Facebook/Twitter – Do you Follow Us
Don't forget, if you are on social media you can follow us on both Facebook, Twitter and Instagram @nwtbiz @gonorthwales – so if you have content that you would like us to share, let us know and we'll promote it to our audience! If possible please link to our destination platforms in your posts so that we can see you and share. Social Media and digital marketing are very important parts of the modern marketing mix and a great way to get your business promoted. Remember, we can't share your social media stories if we don't know about them.
---
NWTBiz Facebook Forum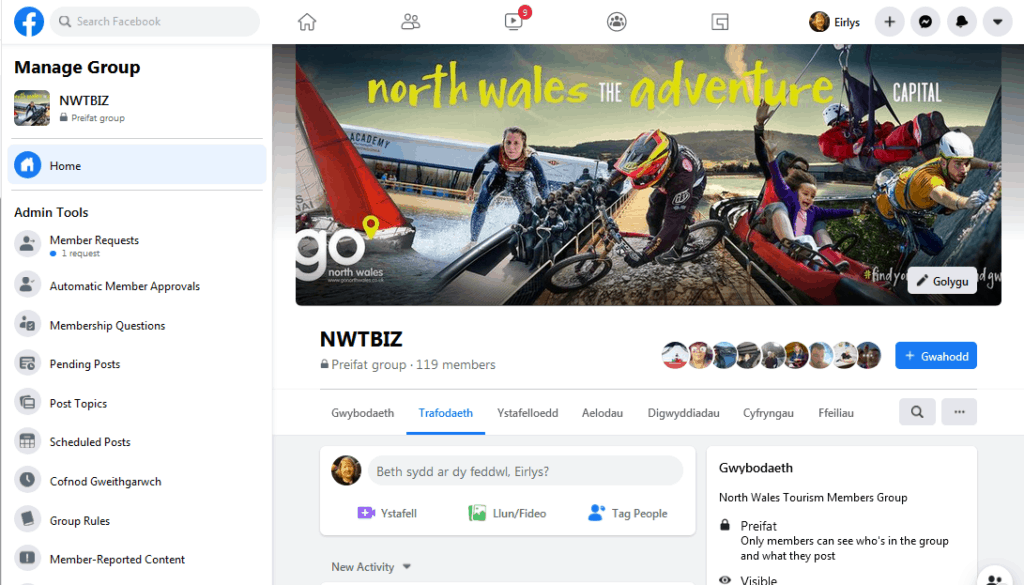 We have a closed Facebook group specifically for members where you can discuss issues, ask for help as well as support each other in our collected aim to make our region one of the top UK tourist destinations. You will need to request to join this by searching NWTBiz and we will accept you as a member.
---
Special Offers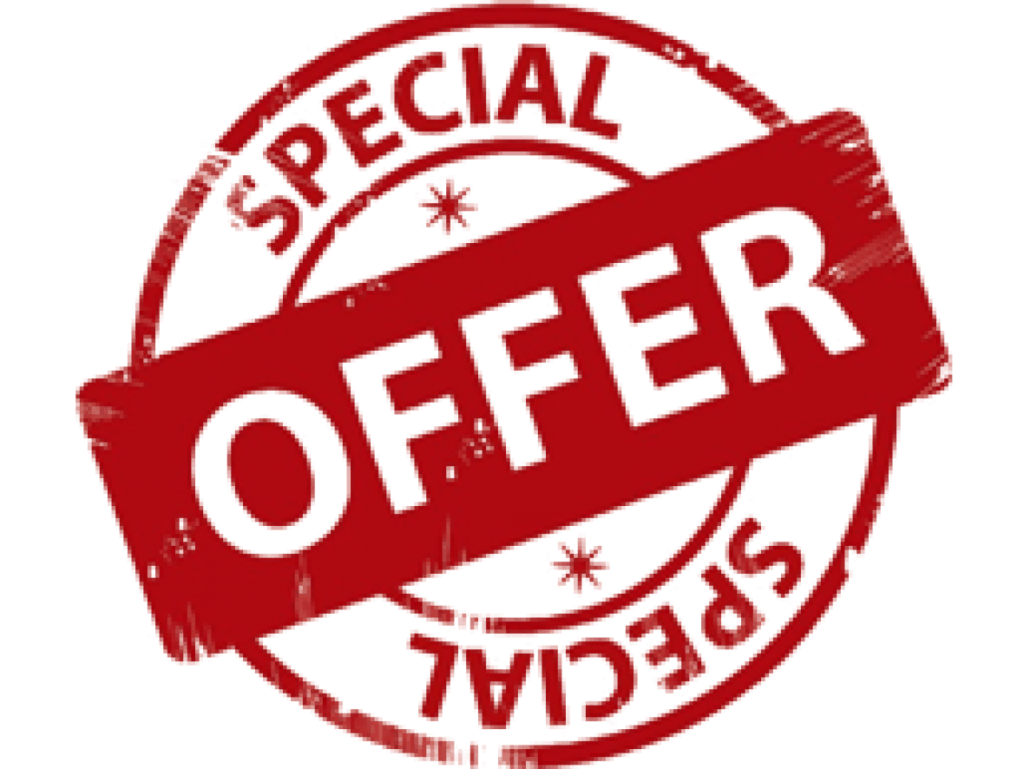 ---
Banner Adverts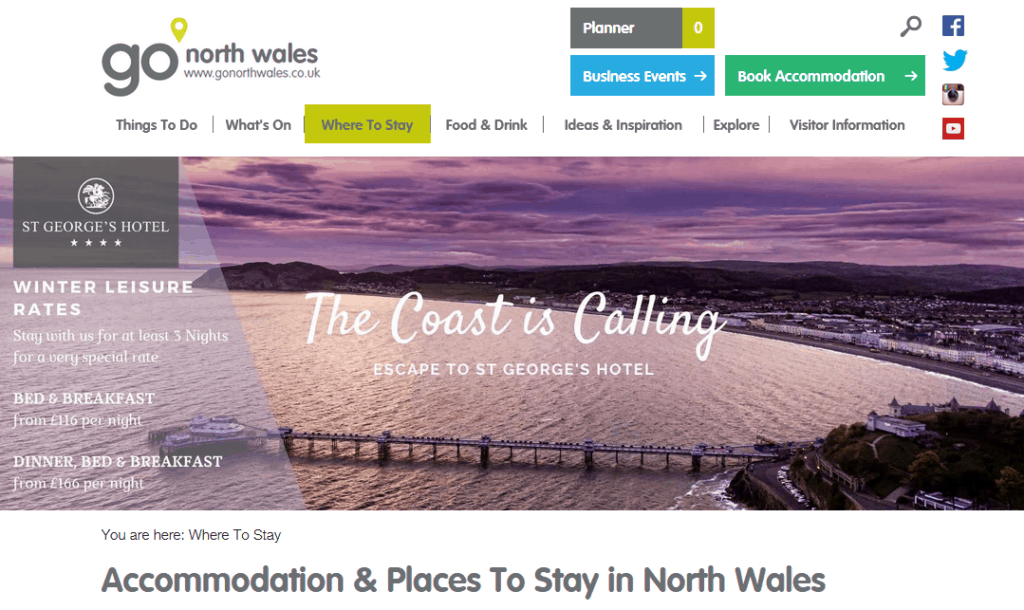 These are adverts, separate from your normal web listing that show on the home page and the sub- pages. Adverts cost from £250 and when clicked the user is taken to a location defined by the advertiser, usually the member's own website, rather than your page on our site. For further information on banner advertising please contact digital@gonorthwales.org.uk.
---
Go North Wales Promotion in Llandudno
Go North Wales is currently promoting a competition on its website and social platforms.
The competition is promoted widely via our competition QR code which can be found on distributed flyers and on the old M&S Window Shop in Llandudno which allows passers-by to scan the QR code on the window which will then direct them to our website to enter their details for the competition.
We are continually looking for a variety of prizes to offer throughout the year and if you would like to contribute to this please let us know.
In return, we can offer advertising on our website, including a large banner on the competition page and two side banners on our homepage. We will also link to your website and share the email data collected to add to your own mailing list. We will also promote it across our social channels.
Please email digital@gonorthwales.org.uk if this is of interest.
---
Let's Keep In Touch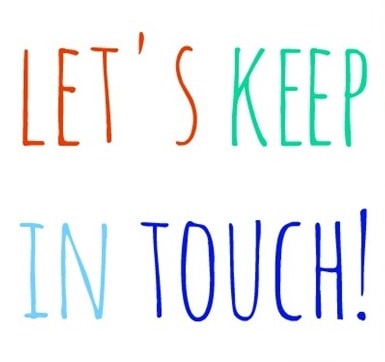 Our main means of communication with you, our members, is by email. We send out regular email messages to all members or to specific sections of the membership. We try to restrict the number of emails to key topics but also send out regular newsletters covering minor topics. Old copies of newsletters are available online.
In addition to emails, we post short-term news on our closed Facebook Group.
---
The members website is another important source of information. Do look at it regularly for information on training courses, offers and discounts, forthcoming meetings and reports on past meetings. You will also find information about membership, managing your web page, details of the Board, latest research documents and strategies and much more.
---
Advertising Opportunities
Dog Friendly Campaign – This new campaign is a pocket style leaflet featuring dog friendly businesses across North Wales supported by a social media campaign.
Great Days Out Campaign – The campaign includes a pocket style leaflet featuring: attractions, activities, discount vouchers and a colour coded map plus a dedicated website with downloadable leaflet and special offer vouchers, QR Code, promotion on our social media channels and consumer enews database.
Bedroom Browser (Attractions Compendium) – The publication is a spiral bound, A4 landscape brochure encompassing attraction leaflets/activity providers. The brochure is distributed to all accommodation members of North Wales Tourism; Reference copies to all Wales and Border TICs; North Wales & North West Libraries; Tour operators for itinerary purposes; visiting journalists; exhibitions etc. Opportunity includes a leaflet insert within the brochure or artwork space on either front (inside) and back covers (inside and back). Limited number of half page advert spaces also available.
For further information please contact Eirlys Jones on eirlys.jones@gonorthwales.org.uk
---
Meet North Wales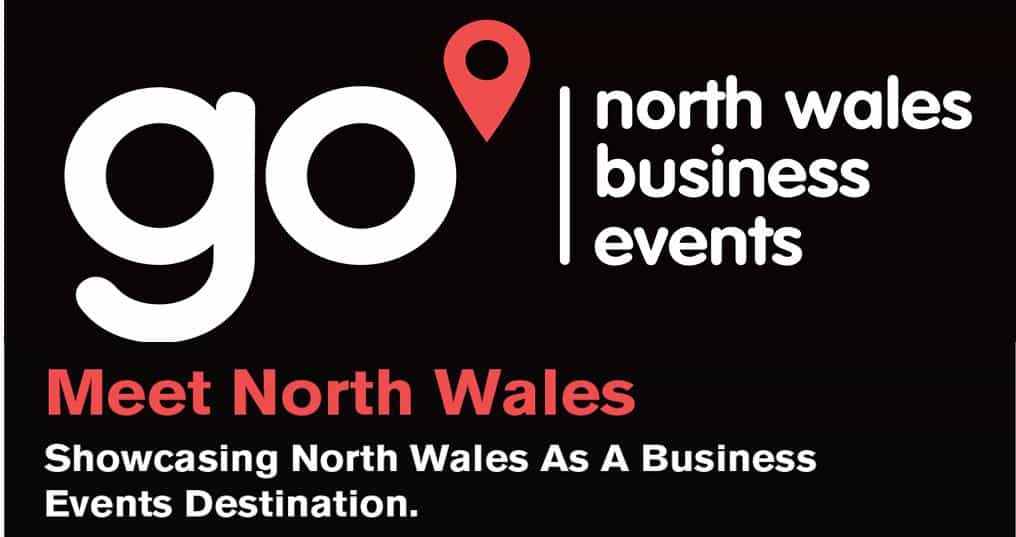 Would you like to be part of the Meet North Wales family and help push North Wales as a viable destination for business events?
The team at Meet North Wales are receiving an increasing number of enquiries from organisers considering North Wales to host their event. Our aim is to:
Raise the profile and competitiveness of North Wales as a MICE destination
Provide a timely response to enquiries from event organisers, coordinating responses to RFPs
Pro-actively attract business events to North Wales
Support members in anticipating and responding to the needs and requirements of business events
Have a look at our Meet North Wales Video to see what makes North Wales the destination for Business Events.
Events we will be attending this year or have already attended as Meet North Wales includes:
The M&I European flagship forums (Oslo in June and Lake Como in October) includes appointments with 40 scheduled buyers on 1-2-1 basis over a 3-day period, combined with unique networking experience providing the ultimate platform for doing high-quality with vetted event planners, event agencies, corporate planners' associations.
We attended the Meetings Show, London as partners with Visit Wales in June. The show is UK's leading exhibition for the meetings, events, conference and incentives industry, delivering the largest hosted buyer programme of any industry event in the UK.
Later in the year we will be at the Corporate Hospitality Show, Birmingham which is a one-day B2B exhibition for the meetings and events industry and is THE event for Event Planners, Agents, Venue Finders and PA/EAs.
Interested to learn more and would like to raise your business' profile? Contact us to discuss the opportunities available by emailing info@meetnorthwales.co.uk or calling 01492 531731.
---
---
Request for Information on Christmas, New Year's Eve Parties/Events and New Year's Day Celebrations
We are currently in the process of compiling a blog post focusing on Christmas and New Year's Eve activities in the North Wales region, and we would be grateful if you could provide us with information regarding any parties, events or celebrations that you may be hosting.
We aim to highlight exciting events that are accessible to the public, encouraging both locals and visitors to participate in the festivities. Therefore, we kindly request any pertinent details about your event, such as:
Name and brief description of the event: Please provide us with a captivating introduction that outlines the key highlights and atmosphere attendees can expect.
Date and time: Share the specific Christmas, New Year's Eve party/events and/or New Year's Day celebration dates, including any noteworthy timing details.
Location: Inform us of the venue where the event will take place, including the address and any accessibility information attendees may need.
Activities and entertainment: Please provide the list of activities, performances, or entertainment offerings that attendees can enjoy during the event.
Ticketing information: If applicable, share specific details about ticket prices, availability, and where attendees can purchase them.
Contact information: Please provide a point of contact whom we can reach out to for any additional inquiries or press-related matters.
We kindly ask that you send us the required details to digital@gonorthwales.org.uk as soon as possible to ensure that we have ample time to include your event in our blog post.
Thank you in advance for your assistance. We look forward to promoting your event and attracting more attendees to celebrate Christmas and the New Year in North Wales.
---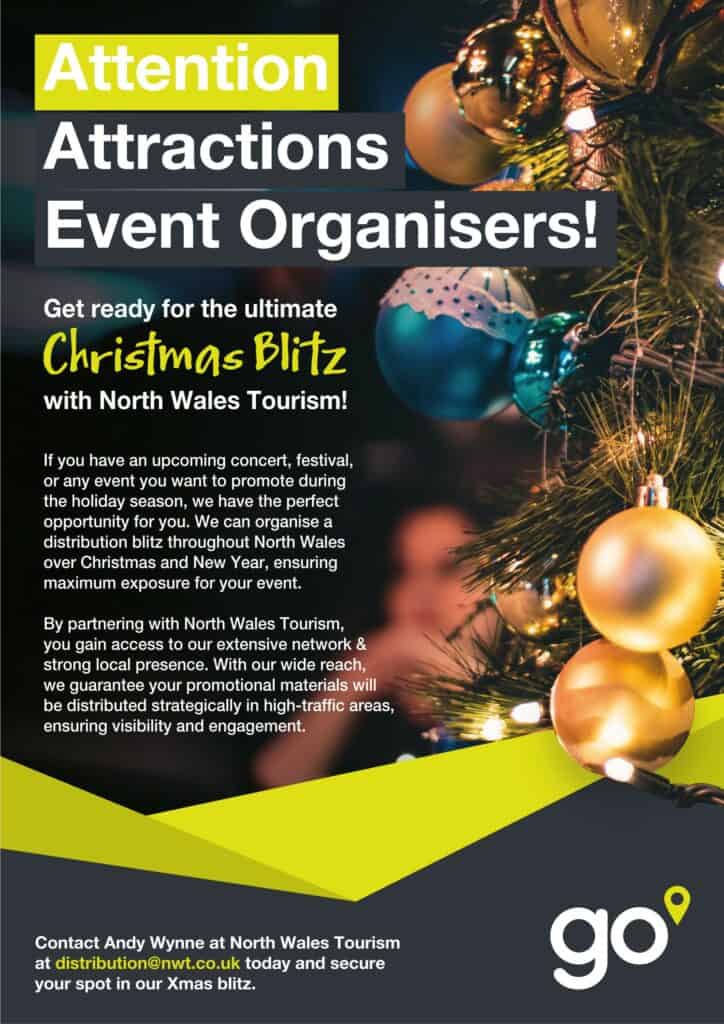 ---
Bookability and Marketing
To help us understand the current position in terms of bookability and marketing of Wales businesses we would appreciate your time in completing this survey.
---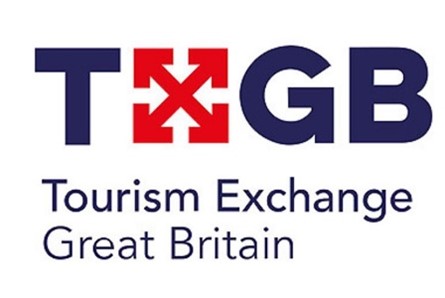 TXGB is a digital platform that brings together tourism businesses to drive sales and boost productivity by connecting the market in a new and unique way.
It is a free-to-join platform that uses your current booking system to connect you to a wider range of distributors such as Visit Wales and other destination websites. There is no set up costs. You simply pay a 2.5% booking fee to TXGB only on bookings generated – plus commission of the chosen distributor.
Using the Tourism Exchange can:
provide an easy way of working with more channels without increasing admin, reaching more customers, growing sales, reduce dependency on a single sales channel and reduce commission costs
provide access to more distribution channels and to make by-products bookable in national and regional destination marketing campaigns.
For further information on TXGB and to get connected https://northwalestourism.com/business-support/marketing/txgb/
---
Are you engaging with Visit Wales Opportunities?
Wales Tourism Product Database (WTPD) – Are you listed on the WTPD database that feeds the Visit Wales website? If you are not, are graded and would like to appear on the website please contact visitwalesopps@northwalestourism.com
Do you have a product ready to sell to the Travel Trade and Business Events market? If so, you could also be included on these separate websites. MeetInWales.com, TravelTrade.VisitWales.com
Working with the B2B markets on Travel Trade and Business Events, provides a great opportunity to attract a wider global reach from new and existing markets to your tourism business. ​
​By establishing effective relationships with key tour operators, travel agents, business event buyers, business event planners and agencies, and engaging a mix of distribution partners, you can find an effective route to market and reach your target audiences.
To learn more about how you can get involved in Visit Wales Travel Trade and Business Events promotion please email visitwalesopps@northwalestourism.com
---
NRW announces engagement event dates for a proposed fourth National Park in Wales
Welsh Government has commissioned Natural Resources Wales (NRW), as the Designating Authority, to evaluate the case for creating a fourth National Park in north east Wales. This will be the first National Park development to be considered in Wales for nearly 70 years.
A series of online and in-person engagement events will take place in November 2023 on an initial Area of Search map.
Find out how to get involved on Natural Resources Wales / NRW announces engagement event dates for a proposed fourth National Park in Wales
---
Separated Waste Collections for Workplaces
From 6 April 2024, all workplaces must separate their waste for recycling.
The Welsh Government is introducing new regulations that will require all workplaces to separate recyclable materials in the same way that most householders do now. This will improve the quality and quantity of how we collect and separate waste.
The legal requirements to separate their waste will affect:
all workplaces (businesses, the public and third sector)
those who collect the waste, or arrange for waste to be collected
those who collect, receive, keep, treat, or transport waste who will need to keep the waste separate from other types of waste or substances
Further information on how you can prepare and why these changes are being introduced is available on the link below.
https://www.gov.wales/separated-waste-collections-workplaces
---
Single-use plastics ban
This will start to come into effect on Monday, October 30 when the following items will be banned from being sold across the country:
Single-use plastic plates
Single-use plastic cutlery
Single-use plastic drinks stirrers
Cups made of expanded or foamed extruded polystyrene.
Takeaway food containers made of expanded or foamed extruded polystyrene
Single-use plastic balloon sticks
Single-use plastic-stemmed Cotton buds
Single-use plastic drinking straws
The new law is a key step in reducing the flow of damaging plastic waste into the Welsh environment and is being introduced following consultation with the public and other stakeholders.
It will give local authorities the power to enforce the offence of supplying or offering to supply the commonly littered items – even when they are free.
https://www.gov.wales/environmental-protection-single-use-plastic-products-wales-act
---
Finding recruitment and staff retention challenging? / Heriau gyda recriwtio a chadw staff?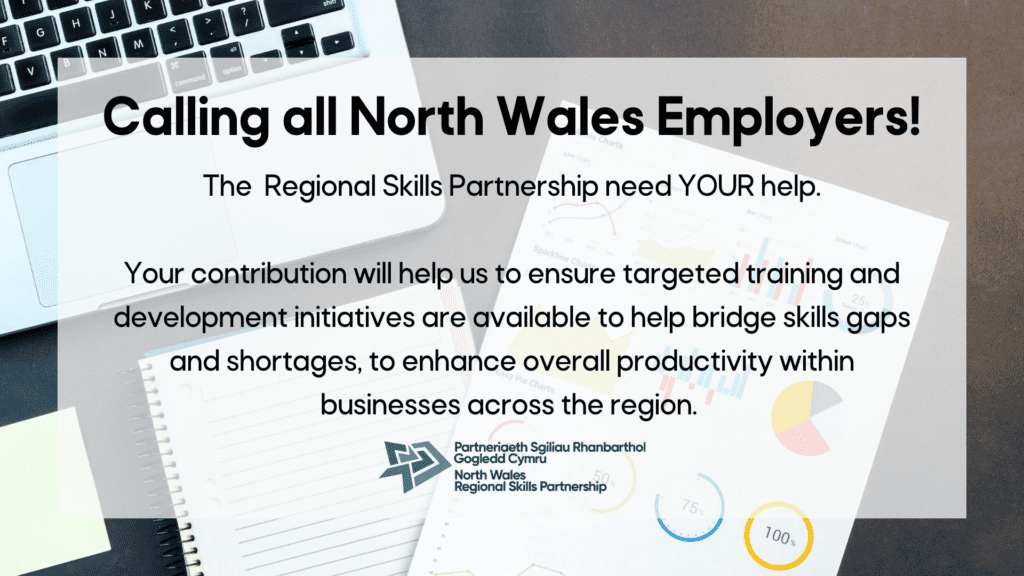 The North Wales Regional Skills Partnership (NWRSP) is a key regional initiative among the four partnerships established across Wales. Designed to shape the Welsh Government's strategic direction in skills and employment provision, the NWRSP identifies skills gaps and shortages in the region through employer-driven insights.
The NWRSP are presently conducting a survey targeted at employers in North Wales to comprehensively grasp their business skills and employment requirements. This understanding of employer needs will guide their strategic focus over the next 12 months, enabling them to direct support where it is most needed.
NWRSP are calling on employers to share their current experience with skills, training and employment, including their views on future skills needs.
Please follow the below link to complete a short online survey, which should take no more than 8 minutes to complete:
https://www.surveymonkey.co.uk/r/PTW3663
The survey will close: Thursday 2nd November 2023 at 12:00pm
—————————
Mae'r Partneriaeth Sgiliau Rhanbarthol Gogledd Cymru (PSRGC) yn fenter ranbarthol allweddol ymhlith y pedair partneriaeth a sefydlwyd ledled Cymru. Wedi'i gynllunio i lunio cyfeiriad strategol Llywodraeth Cymru o ran darpariaeth sgiliau a chyflogaeth, mae'r Bartneriaeth yn nodi bylchau a phrinder sgiliau yn y rhanbarth trwy fewnwelediadau gan gyflogwyr.
Ar hyn o bryd mae PSRGC yn cynnal arolwg wedi'i dargedu at gyflogwyr yng Ngogledd Cymru er mwyn cael dealltwriaeth gynhwysfawr o'u sgiliau busnes a'u gofynion cyflogaeth. Bydd y ddealltwriaeth hon o anghenion cyflogwyr yn llywio eu ffocws strategol dros y 12 mis nesaf, gan eu galluogi i gyfeirio cymorth lle mae ei angen fwyaf.
Mae PSRGC yn galw ar gyflogwyr i rannu eu profiad presennol gyda sgiliau, hyfforddiant a chyflogaeth, gan gynnwys eu barn ar anghenion sgiliau yn y dyfodol.
Dilynwch y ddolen isod i gwblhau arolwg byr ar-lein, na ddylai gymryd mwy nag 8 munud i'w gwblhau:
https://www.surveymonkey.co.uk/r/SMVWFHS
Bydd yr arolwg yn cau: Dydd Iau 2ail o Dachwedd 2023 am 12:00pm
---
Daffodil Foods began producing the only Welsh Clotted Cream in 2020 and is now selling the 40g individual portions to hospitality venues across Wales. This luxurious, smooth textured clotted cream works well with all Welsh bakery produce to complete the provenance of their special Welsh afternoon teas. As an alternative serving suggestion try it on Welsh cakes! Daffodil Foods also supplies their Welsh clotted cream as part of a hamper gift box that can be ordered directly from their website shop and posted all over the UK as a taste of wales. https://www.daffodilfoods.co.uk/products
---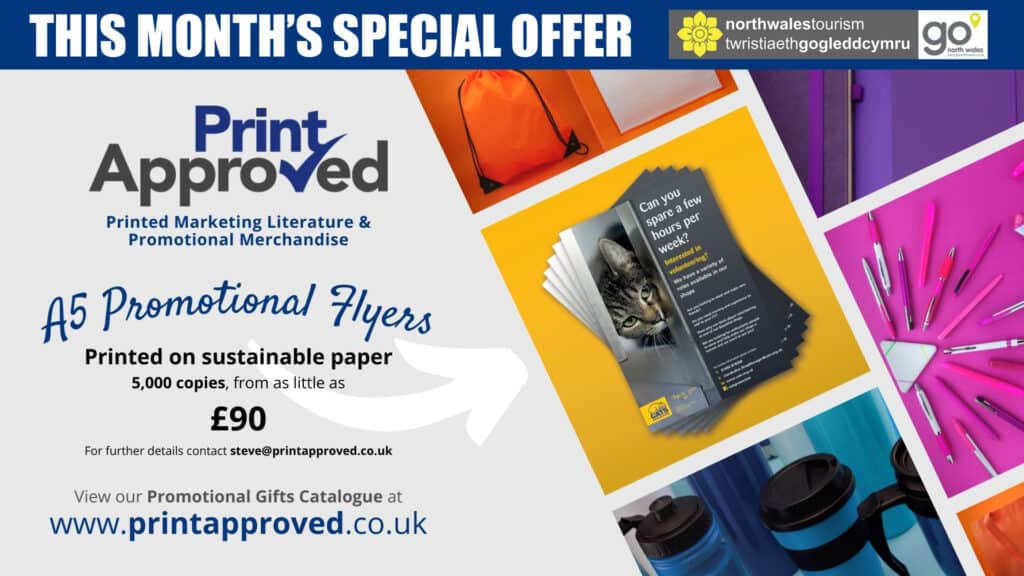 ---
As we are now into the shoulder season I thought I'd do a quick reintroduction here. I'm Dylan and I run a travel blog called Shoot from the Trip. I'm based in Colwyn Bay and while the website features many international destinations, I have a page focused on North Wales content which I've linked to below.
https://www.shootfromthetrip.com/guide-to-north-wales/
This page links out to a number of individual articles, blog posts and reviews for attractions, accommodation and places to visit in the area. Many of those articles rank highly on Google with good authority, seeing a good amount of traffic (circa 20K views across North Wales content in the past 6 months).
I'm always on the lookout to add further North Wales content to the site, so if you would like your accommodation, attraction or destination featured on the site, please feel free to drop me an email and we can discuss further on how to work together.
---