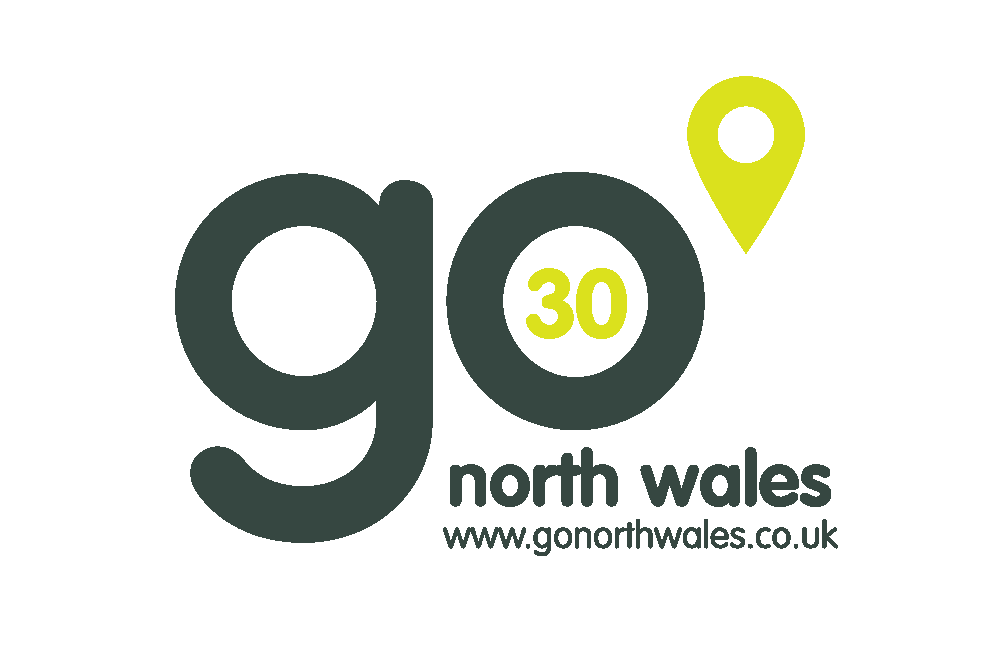 We appreciate that it is an extremely difficult, worrying and complex time for many businesses and individuals across North Wales with the COVID-19 pandemic but as the situation evolves it's important to know that we are here to support you.
We continue to monitor reopening and assess which sectors remain disproportionately affected and what support needs to be extended in the coming winter months. Parliament is in recess and returns on 1 September, however, we have continued to engage with MPs throughout August.
If you have any questions/queries please do not hesitate to contact us, by email (contacts below), social media channel, online chat on the Trade website or phone. Please email jim.jones@gonorthwales.org.uk; eirlys.jones@gonorthwales.org.uk or deborah.nettleton@gonorthwales.org.uk with any issues etc you may have.

Please keep posted on any developments on our Trade site www.northwalestourism.com and on our social media platforms (facebook and twitter) NWTBiz which is regularly updated.
Keep safe, we're in this together.
Enjoy Summer Safely
North Wales Tourism have successfully been awarded funding to carry out Enjoy Summer Safely Campaign which runs to middle of September. This is a short leading campaign with a quick turnaround.
Enjoy Summer Safely is the latest government campaign which encourages the public get back to the things they have missed whilst following COVID-19 safety guidelines.
The campaign is aimed at encouraging people to take advantage of the reopening of hospitality businesses and is integrated with Know Before You Go reassurance campaign by Visit England that encourages consumers who are ready and willing to travel to understand that they need to check what is open and any restrictions that may be in place before they leave home. The campaign also complements the free UK-wide We're Good To Go industry standard.
As part of our activity is:
Radio Campaign – with Airtime and sponsorship packages plus Podcasts
DAX Activity – Dynamic Audio messaging tailored depending on a multitude of datapoints, making it relevant to the user, their environment and even their behaviour, giving them a far more personalised message than they will have ever heard before
Social Media – Setting up using repurposed video and other image and copy creative to encourage potential tourists to visit North Wales safely under the tagline Enjoy Summer Safely through Facbeook Ads, Instagram, Twitter and Goole Ads
Website – Reconfiguration of the website to promote the Enjoy Summer Safely campaign through improving SEO with key messages, revising navigation web header, mobile enhancement and covid response portal
JATA Online Travel Mart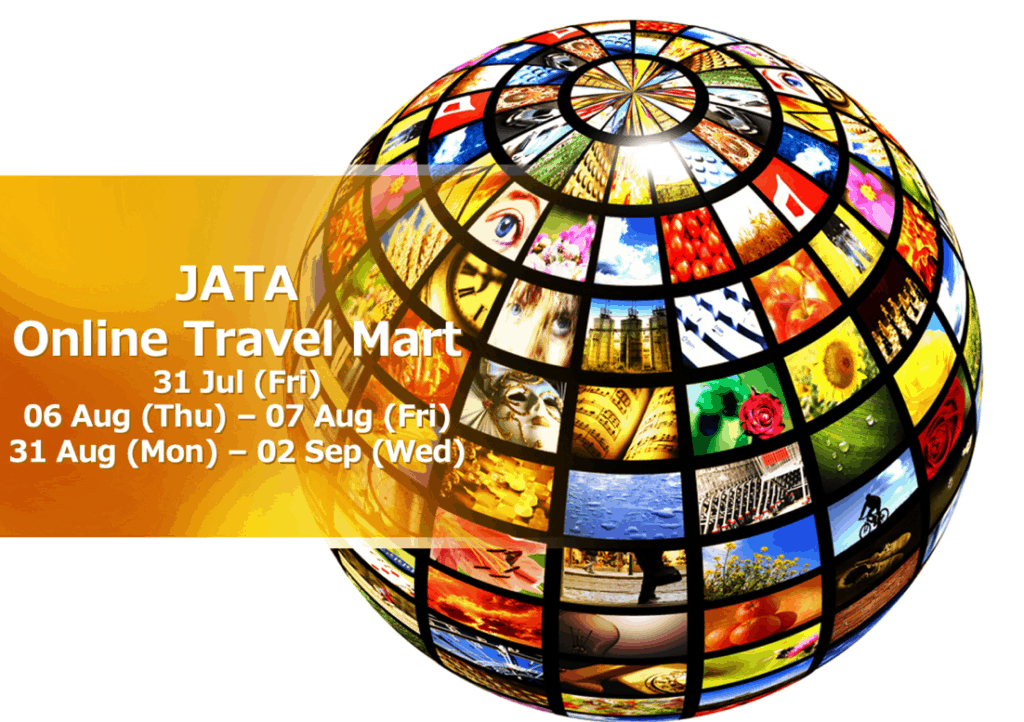 North Wales Tourism will be participating in the JATA Online Travel Mart One to One business meeting, from the 31st Aug to 2nd Sep for three days. It is a digital marketplace for Japanese Travel Companies to meet and discuss business with Global providers, where we will be promoting our region and businesses within.
We will be targeting the:
Major travel agents
Major land opera
Medium sized travel agents
Education travel agents
The current situation with the Japanese market is that individual travellers are likely to travel soon, but group tours may have to wait until Spring 2021.
Website listing – Updating your Details
Your individual listing on our website is your main opportunity to present your business to the public. However, like any advertising it must be regularly maintained to ensure that it is correct, current and really works for you.
When did you last check it?
When did you last update it?
Are your pictures great?
Is your listing better than that of competitors?
Please login and update your entry on the Go North Wales website. If you require a reminder of your login details or assistance in updating your details please contact Anthony Woodhouse on 01492 539051 or email digital@gonorthwales.org.uk.
Facebook/Twitter – Do you Follow Us
Don't forget, if you are on social media you can follow us on both Facebook, Twitter and Instagram @nwtbiz @gonorthwales – so if you have content that you would like us to share, let us know and we'll promote it to our audience! If possible please link to our destination platforms in your posts so that we can see you and share. Social Media and digital marketing are very important parts of the modern marketing mix and a great way to get your business promoted. Remember, we can't share your social media stories if we don't know about them.
NWTBiz Facebook Forum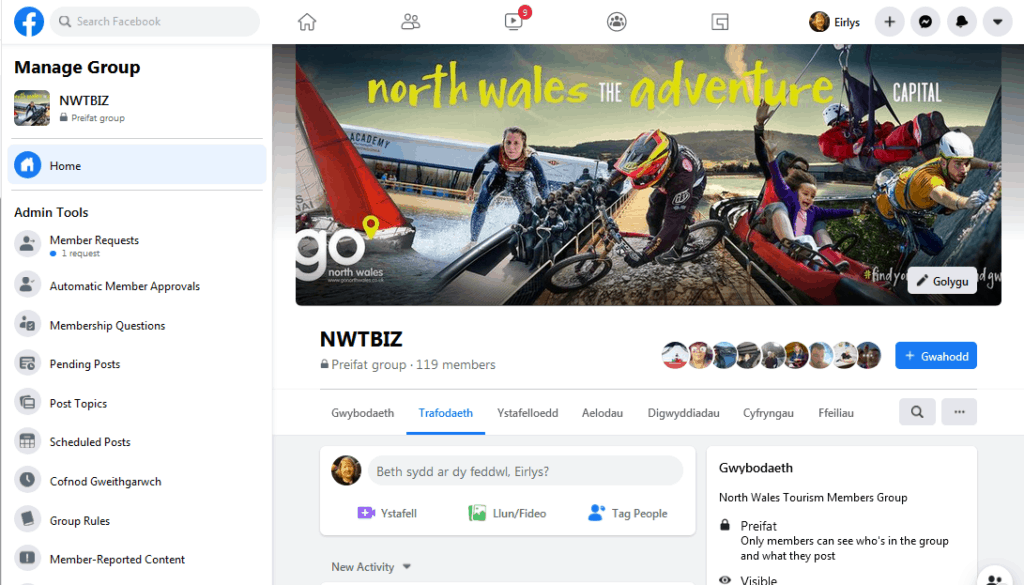 We have a closed Facebook group specifically for members where you can discuss issues, ask for help as well as support each other in our collected aim to make our region one of the top UK tourist destinations. You will need to request to join this by searching NWTBiz and we will accept you as a member.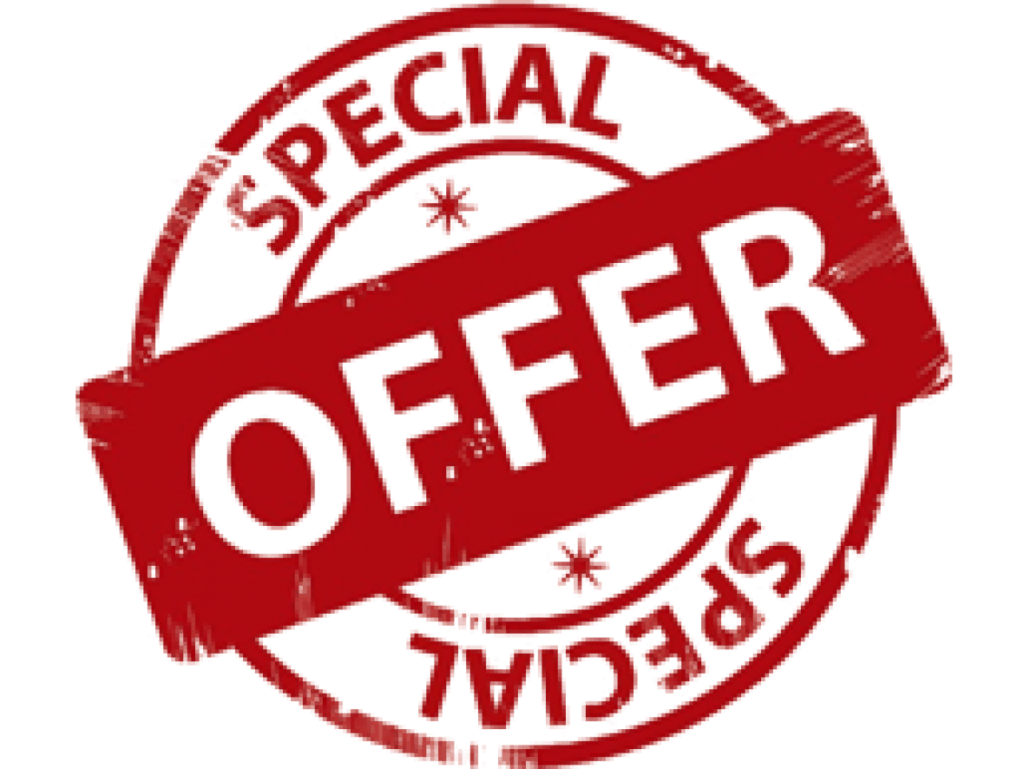 All members can create special offers at no cost. They show on the special offers page on the gonorthwales website and it is another sales opportunity that is free to use. At present this facility is under used. If you would like to submit your offer to include on our website please follow the link http://submit-offer.gonorth.wales/
Banner Adverts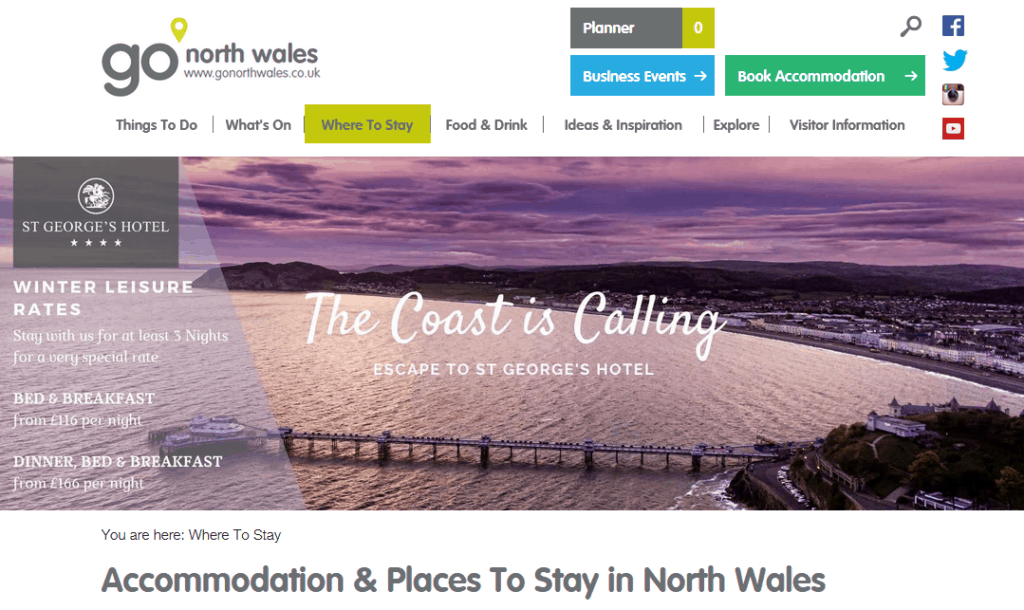 These are adverts, separate from your normal web listing that show on the home page and the sub- pages. Adverts cost from £200 and when clicked the user is taken to a location defined by the advertiser, usually the member's own website, rather than your page on our site. For further information on banner advertising please contact digital@gonorthwales.org.uk.
Keep in Touch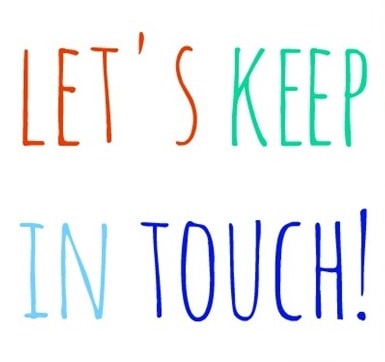 Our main means of communication with you, our members, is by email. We send out regular email messages to all members or to specific sections of the membership. We try to restrict the number of emails to key topics but also send out regular newsletters covering minor topics. Old copies of newsletters are available online.
In addition to emails, we post short-term news on our closed Facebook Group.
The members website is another important source of information. Do look at it regularly for information on training courses, offers and discounts, forthcoming meetings and reports on past meetings. You will also find information about membership, managing your web page, details of the Board, latest research documents and strategies and much more.
Tell us your news
Do keep us informed about your business.
If you send out press releases or newsletters, do ensure that we are on the distribution list – digital@gonorthwales.org.uk
Tell us about business developments, any new plans you may have and your successes.
Obviously we like to hear what you are doing, but more importantly we use the information to promote your business and the area in the following ways, all of which are free to you.
Social Media
We havea news page on our website. We are regularly publishing articles each week and most are news from our members.
Inclusion in our regular members' newsletters
Telegraph Write-Ups
Some good PR stories for North Wales in the Telegraph recently
https://www.telegraph.co.uk/travel/destinations/europe/united-kingdom/wales/articles/postcard-from-llandudno/
https://www.telegraph.co.uk/travel/destinations/europe/united-kingdom/wales/articles/secret-north-wales/
(Paywall)
North Wales Tourism Visitor Attraction Pass Scheme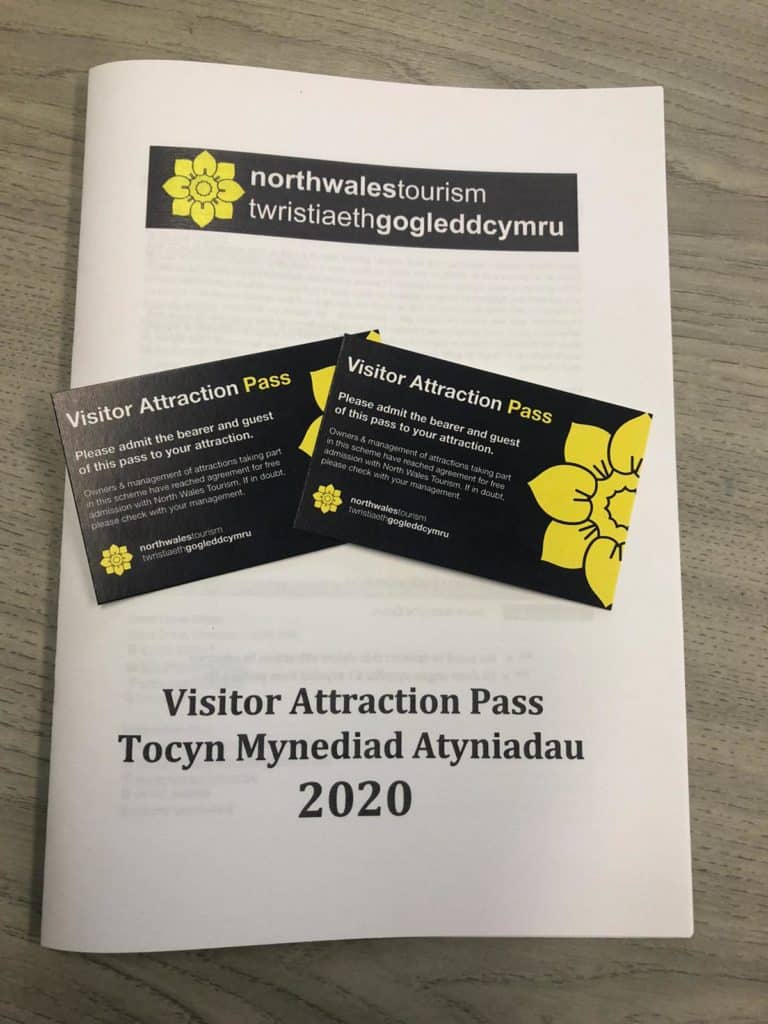 During these extraordinary times we have decided to suspend the NWT Visitor Pass Scheme as the majority of our Visitor Attractions and Activities have had their capacity capped and obviously they need to financially capture as much of the remaining season as possible.
We look forward to renewing the passes in 2021.
Face Visors
UK Leisure Living Foundation have kindly donated 500 face visors to help supply North Wales Tourism members during this difficult time when preparing your business ready for reopening.
During the lockdown UK Leisure Living Foundation have already donated visors to frontline workers and key workers and have hand delivered 1000 to care homes in Llandudno, Rhos on Sea, Colwyn Bay and Old Colwyn as well local Police and Ambulance crew.
We still have a supply left for distribution, therefore if you require any please contact deborah.nettleton@gonorthwales.org.uk to arrange a collection from our NWT HQ in Colwyn Bay at appointed times on a dedicated day.
Outdoor events to be trialled in Wales in latest easing of lockdown restrictions
The Welsh Government recognises the value of the events sector to Wales and how cultural, sports and business events are a vital part of the visitor economy and one of the last sectors left to re-open.
Initially three small events, with limits of up to 100 people, and subject to strict risk assessments, will be held across Wales later this month.
Outdoor events are being prioritised in this review period, while the weather is mild, due to evidence of lower transmission of coronavirus outdoors.
If these small events can be carried out safely, and transmission of the virus remains low, it is hoped the next stage will be increased numbers of participants, allowing a limited number of spectators to attend sporting events and potentially considering trialling small scale business events.
In the coming weeks three small scale events will be trialled to inform future review processes.
Outdoor events of up to 100 people:
Theatr Clwyd's proposals for a number of live outdoor performances from 27 August
Welsh Triathlon's planned 'Return to Racing' competition at Pembrey Country Park which will be a closed venue and without spectators
a car rally at Anglesey Circuit/Trac Mon Race track
https://gov.wales/outdoor-events-be-trialled-wales-latest-easing-lockdown-restrictions
Extensions to Seasonal Occupancy of Caravan Sites – A Planning Guide for site owners and operators
This booklet has been written for caravan site owners and operators as a guide to making planning applications to allow existing caravan sites to open all year where seasonal occupancy conditions prevent this. The guide has been prepared in light of the implications for caravan site businesses from the COVID-19 restrictions.
https://www.wlga.wales/SharedFiles/Download.aspx?pageid=62&mid=665&fileid=2778
Emergency First Aid at Work Course – 1 Day Course
When: Friday, September 4, 2020
Where: Groundwork Training Suite, Plas Power, Tanyfron, Wrexham, LL11 5SZ
This qualification is designed for individuals who wish to act as an emergency first aider in their workplace.
https://www.groundworknorthwales.org.uk/training/book-a-course/bookable-courses/emergency-first-aid-1-day-4th-sept-2020/
Book: Please email training@groundworknorthwales.org.uk or call 01978 757 524
Non-Domestic Rates Revaluation for Wales
The next non-domestic rates revaluation in Wales will take effect in 2023 and will be based on property values as at 1 April 2021.
Postponing the revaluation to 2023 will mean that the rateable values on which rates bills are based will better reflect the impact of COVID-19. The change will also mean that the next revaluation in Wales takes effect at the same time as that in England, ensuring businesses and other ratepayers in Wales are not placed at a disadvantage compared to those elsewhere.
Copy of the written statement is available on the link below:
https://gov.wales/written-statement-non-domestic-rates-revaluation-wales
Self-Employed Income Support Scheme Re-Opens
The scheme has been extended.
If you were eligible for the first grant and can confirm to HMRC that your business has been adversely affected on or after 14 July 2020, you'll be able to make a claim for a second and final grant from 17 August 2020.
The scheme allows you to claim a second and final taxable grant worth 70% of your average monthly trading profits, paid out in a single instalment covering 3 months' worth of profits, and capped at £6,570 in total.
As with the first grant HMRC will contact you if you're eligible. They will work out your eligibility for the second grant in the same way as the first grant. You can make a claim for the second grant if you're eligible, even if you did not make a claim for the first grant.
For further information on the Self Employment Support Scheme please visit the website below.
https://www.gov.uk/guidance/claim-a-grant-through-the-coronavirus-covid-19-self-employment-income-support-scheme
Introduction of new smoke-free requirements legislation
Welsh Government is planning to introduce new smoking legislation in Wales and would like to hear views on bringing the requirements into force on 1 January 2021.
Enclosed or substantially enclosed workplaces and premises open to the public will remain largely smoke-free (as they are now) and signs will still need to be displayed.
However, there are currently exemptions that allow smoking in self-contained holiday and temporary accommodation and for hotels, guesthouses, inns, hostels and members' clubs to have smoking bedrooms. These exemptions will be removed 12 months after the legislation comes into force and after that time all of these types of accommodation will have to be smoke-free.
https://businesswales.gov.wales/news-and-blogs/news/introduction-new-smoke-free-requirements-legislation
Keeping records of staff, customers, and visitors: test, trace, protect
A change in Coronavirus regulations announced by the Welsh Government, 14 August 2020, has made it obligatory for hospitality businesses and other high-risk settings to collect contact details of customers from Monday, 17 August 2020, rather than the current approach of voluntary participation. The 'high-risk sectors' are those already listed in the existing record-keeping guidance:
Hospitality, including pubs, bars, restaurants and cafes
Tourism and leisure, including theme parks, museums and cinemas
Close contact services including hairdressers, barbers, beauticians, tattooists, sports and massage therapists, dress fitters, tailors and fashion designers
Facilities provided by local authorities, such as libraries and leisure centres
Keep an eye on the following link, the latest guidance will be available here soon:
https://gov.wales/keeping-records-staff-customers-and-visitors-test-trace-protect
Welsh language use in your business
Free support to encourage Welsh language use in your business, including translation, text checking and general advice.
https://businesswales.gov.wales/news-and-blogs/news/do-you-have-staff-who-can-speak-or-are-learning-welsh
Four in a Bed – Request to Accommodation Operators
One of the most watched daytime show on the channel is now casting for their next series!

https://www.channel4.com/programmes/four-in-a-bed
They are seeking all varieties of accommodation across the UK, from the more traditional B&Bs to lavish castles and manor houses to quirky glamping sites – anyone who would like to take part and promote their business.
If you're familiar with the show you'll know that they feature a variety of places to meet every budget and this year it's more important than ever we can show off the UK's best places to stay. If you're not familiar with the show – they are a brand new team (based in Manchester) looking for enthusiastic owners/managers/staff members to represent their establishment and embrace a bit of friendly competition.

Now more than ever the programme recognises the importance of businesses supporting one another and Channel 4 are keenly aware Four in a Bed can be a platform that supports the UK's hospitality sector. Establishments have received more bookings equating to an extra £20,000+ in income and website traffic increasing by more than 3,000% from participating in the programme. Most recently, one B&B turned over an extra £12,000 worth of bookings within 24 hours of their episode airing on TV.

Viewing figures for the programme are 1.1 million.
If you are interested in participating please contact the programme direct by following the link
https://www.studiolambert.com/take-part-four-in-a-bed.html
Mike Hurdman Carpet Cleaning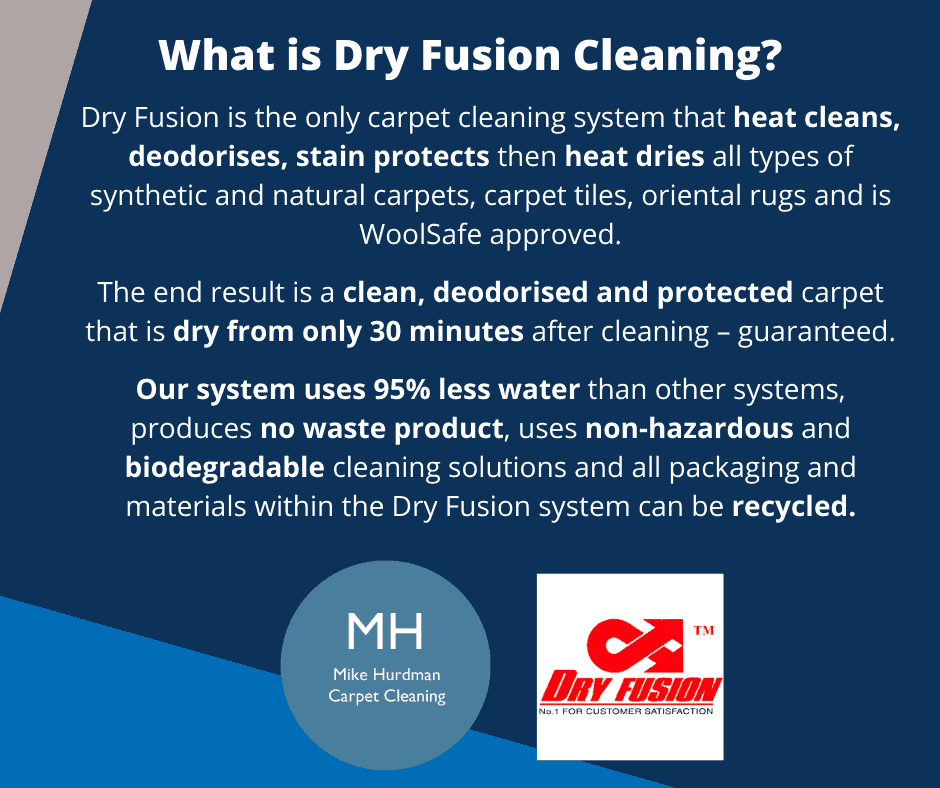 As we slowly ease out of lockdown, we can begin to think about giving our carpets a little freshen up.
Providing a quality service using a unique cleaning system that is low moisture and can enable your carpets to be dry in as little as 30 mins.
See our previous clients Trustpilot reviews, to read what they had to say.
https://uk.trustpilot.com/review/mikehurdmancarpetcleaning.co.uk
I have availability for September and October. Book early to avoid disappointment to a preferred date.
If you want to learn more about the system or book a quotation. Call 01492 548436 or 07809 615496.
Newsletter available as a pdf download