Tourism Awards, Thursday 14th November 2019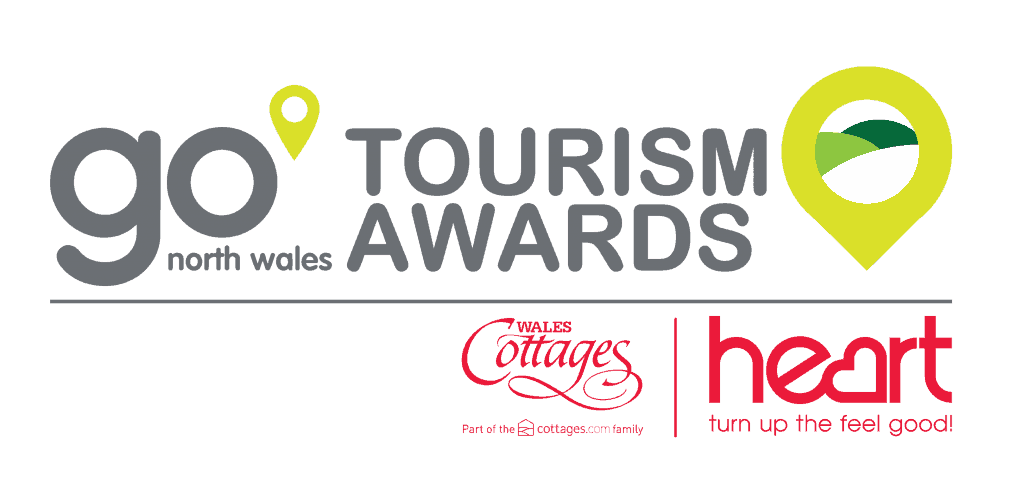 Nominations and tickets for the 2019 Go North Wales Tourism Awards, sponsored by Wales Cottages, in partnership with Heart have now opened.
The fourth Go North Wales Tourism Awards will be held on Thursday 14 November at Venue Cymru, Llandudno to celebrate and recognise excellence and outstanding achievement by our businesses and individuals working in the tourism hospitality sector of North Wales.
If you are involved in our region's tourism industry then these awards are for you! Why not complete the online form and submit? There are 15 categories and nominations are now open! You can nominate your own tourism business, or the best tourism business which you think is a worthy winner.
Winners from some of the Award Categories will be the Regional representatives in the Visit Wales National Tourism Awards in 2020.
For all details on the awards including how to join us on the Awards evening please visit www.gonorthwalestourismawards.co.uk
Date for your diary!
Go North Wales Tourism Conference – Thursday 28th November 2019
The Annual Go North Wales Tourism Conference will be held at Clwyd Theatr Cymru, Mold, 28th November 2019 from 9.30 – 16.00.
The Conference will be hosted by North Wales Tourism in partnership with Flintshire in Business and will bring together market leaders, tourism businesses and the captains of our industry from across Wales and the UK.
This year's theme will be Immersive Tourism.
Speakers already confirmed include:
Gareth Wyn Jones – is the nation's favourite farmer
Luke Potter, North Wales Assistant Director of Operations at the National Trust for Wales, Northern Ireland and England
Keith Dunn, OBE – Honorary Consul for Japan in Wales and Vice President of the Consular Association in Wales
Come to hear inspirational and influential speakers talking about their experiences. The event promises to be the best yet.
Keep posted for further details.
Welcome to new Board Members
Following our AGM in May two new members were elected as Directors to the Board of North Wales Tourism:
Glenn Evans, Managing Director Royal Oak Hotel Ltd (Betws-y-Coed) – Glenn returned to the family business after a successful career in London as a Solicitor specialising in medical negligence. Upon his return to Betws-y-Coed in 1997, Glenn initiated a refurbishment and development plan for the company's flagship hotel The Royal Oak. By master-planning the site the Royal Oak stood on the company doubled its room capacity and added retail areas and a standalone F&B outlet making it the go-to destination venue in Betws-y-Coed. In 2001 the company acquired the Waterloo Hotel and added Leisure facilities to it's portfolio. Having grown up in the village Glenn understands the demands and adaptations seasonal businesses require to thrive and has worked steadfastly with the local Tourism Committee to attract year round trade for the village. Glenn has been a board member of Betws Ymlaen, a local community group who organise and hold national level events, whose aim is to leave a sustainable legacy for future generations. Glenn has also been involved with Arts & Business Cymru & a member of their directors' pool, alongside a host of community forums and boards to include the Betws-y-Coed and District Tourist Association and the Snowdonia Arts Festival. In taking an inclusive approach to community and business and understanding the inherent needs of rural living, alongside his background in law, Glenn hopes to bring expertise and insight to the North Wales Tourism Board.
Nicky Williamson owns the West Arms in Llanarmon Dyffryn Ceiriog, together with her husband Mark. She grew up in North Wales before embarking on a varied career with international hospitality companies, both in the UK and globally and has now returned home to North Wales to run 'a place of their own'. For the most part of her career she has worked for InterContinental Hotels & Resorts and Starwood Hotels & Resorts (now Marriott International) in global leadership roles and with overall responsibility for Europe, Africa and Middle East. Her roles covered specialisms including Hotel operations, Brand development, development of Emerging Markets and Leadership Development. Nicky is passionate about hospitality and encouraging more people into the industry, reflected in her development of international graduate management programmes and in her role lecturing BA and Masters students at Glion Institute of Hospitality. Alongside The West Arms, Nicky continues to offer consultancy, primarily to support businesses through Coaching, Training and Employer Brand development. 'North Wales has so much to offer and I am looking forward to giving as much as I can to support the growth of such an amazing region at such a pivotal time in its development.'
Full details of all our board members can be viewed on our trade website – https://northwalestourism.com/about-us/nwt-directors/
Digital Marketing Opportunities
North Wales Tourism has a wide range of digital marketing opportunities including banner and block advertising and also Video map on the GoNorthWales website with the opportunity to promote your product to an active, engaged and loyal online audience.
GoNorthWales has built a loyal base of followers and now through effective social media and email marketing, our audience has confidence in our brand. Digital advertising on GoNorthWales will mean your business will be seen by a wide range of potential visitors to North Wales.
This is a fantastic way to showcase your business and to standout to the visitors.
For further information please contact Carol Beard on 01492 539068 or email carol.beard@nwt.co.uk.
Updating your Details
Our website www.gonorthwales.co.uk continues to grow with web traffic to our site from all over the world we are currently up by 80% this year providing not only an in depth source of visitor information but also generating even more business for our members.
Please login and update your entry – remember this is your opportunity to showcase your business through the GoNorthWales website. If you require a reminder of your login details please contact Anthony Woodhouse on 01492 539051 or email digital@nwt.co.uk.
Facebook/Twitter – Do you Follow Us
Don't forget, if you are on social media you can follow us on both Facebook, Twitter and Instagram @nwtbiz @gonorthwales – so if you have any event news or offers, let us know and we'll promote it to our audience!
Got an offer on? Let us know! – email digital@nwt.co.uk
Facebook: https://www.facebook.com/gonorthwales
"Japan-UK Season of Culture 2019-20
The "Japan-UK Season of Culture" will unfold in 2019 and 2020, when Japan hosts two sporting landmarks: the Rugby World Cup in 2019 and the Tokyo Olympic and Paralympic Games in 2020. It seeks to build on the British people's keen interest in these events by showcasing Japan's multifaceted attractions. The Embassy of Japan in the United Kingdom is seeking proposals for a wide range of events celebrating the Japan Season of Culture in the UK between 2019 and 2020, bridging the two major events. Organisers of events will be entitled to use the wording "Official event of Japan Season of Culture in the UK" for all publicity materials.
For further information on how to submit your event and about the Japan Season of Culture in the UK please visit https://www.uk.emb-japan.go.jp/SeasonCulture/index.html
New Minister for Tourism announced
The Department for Digital, Culture, Media and Sport (DCMS) has announced Rebecca Pow MP as the new Parliamentary Under Secretary of State for Arts, Heritage and Tourism. She took up her new post on 23 May 2019, succeeding Michael Ellis MP.
We would like to extend our thanks to Michael for all his work and support over the past year and warmly welcome Rebecca as the new Minister for Tourism. We look forward to working with her on the importance of tourism to the UK economy and the Tourism Sector Deal in the coming months.
https://www.visitbritain.org/rebecca-pow-mp-appointed-new-parliamentary-under-secretary-state-arts-heritage-and-tourism#utm_source=VBBIZ_Enews&utm_medium=Email&utm_campaign=Enews_29_05_19
Wales Tourism Performance Report January to December 2018
The results indicate a largely mixed year, with a higher volume of overnight visitor trips taken in Wales by GB residents, but lower numbers of international visitors. In the twelve months from January to December 2018, there were 10.021 million overnight trips to Wales by GB residents, which was an 11 per cent increase on the same period last year. Expenditure in Wales was £1,853 million, an increase on last year by 13.8 percent. There were increases in the levels of overnight holiday trips and increases in visits to friends and relatives and business trips in the twelve months. There has been a slight decrease in the volume and expenditure of Tourism Day trips taken in Wales during 2018 compared to the same period on the previous year, with 95.7 million trips taken and related expenditure of £4 billion.

There were 941,000 trips taken in Wales by international visitors and expenditure of £405 million. This was a decrease in the volume of trips by international visitors to Wales (12.8%), compared to a 3% fall across the UK as a whole. Visitor expenditure increased by 9.7% to £405 million. Trips for all purposes, holidays and visits to friends and relatives and international business trips fell slightly compared to last year.
https://gov.wales/wales-tourism-performance-2018
Bank of England Summary
The latest Bank of England Agent's Summary of Business Conditions has been published.
The following link is to the pdf file https://www.bankofengland.co.uk/agents-summary/2019/2019-q2
The new school curriculum – good for business?
Education needs to prepare young people for a rapidly changing future and the world of work. Education in Wales is changing with the introduction of a new curriculum in 2022. An understanding of the world of work will begin at an early age.
As a business you can get involved by providing feedback on the new curriculum up until 19 July. You can do this via Hwb or by emailing CurriculumForWales2022@gov.wales.
When the curriculum is live the Welsh Government hopes that businesses will link with schools to offer experiences and projects that help young people understand the world of business and work. Find out more here.
https://businesswales.gov.wales/news-and-blogs/news/education-changing-information-businesses