This year the Annual Go North Wales Tourism Conference is working in partnership with Arloesi Pontio Innovation by bringing together market leaders, tourism businesses and the captains of our industry from across Wales and the UK.
Following the success of the 2017 Conference, which was attended by over 100 industry operators and professionals, the Conference this year will be taking place on Thursday 6 December 2018, at Pontio, Bangor.
Theme of this year's conference will be Innovation, Wellness and Discovery.
Headline speakers include:
Kate Humble who's the author of three books – including the recently published Thinking on My Feet: The Small Joys of Putting One Foot in Front of the other. She has been a columnist for The Telegraph, Top Sante, and Country Smallholding and regularly writes for The Telegraph travel and weekend sections.
John Thackra is a British-born writer, advisor and public speaker. He curated the celebrated Doors of Perception conference for 20 years – first in Amsterdam, later across India – and is a Senior Fellow at the Royal College of Art in London.  Thackara writes about live examples of what a sustainable future can be like with a special focus on social and ecological design.
Other speakers include:
Phil Scott, Rib Ride
Denise Hampson, Desire Code
Professor Andrew Goodman, Arloesi Pontio Innovation
Lord Ellis–Thomas, Minister for Culture, Tourism and Sport
Live link to Ash Dykes in China
Ashley Rogers, North Wales Mersey Dee Business Council
The event promises to be the best yet.
More details on the link below including information on how to book https://www.eventbrite.co.uk/e/go-north-wales-tourism-conference-2018-tickets-51751828111
---
The third Go North Wales Tourism Awards will be held on Thursday 15 November at Venue Cymru, Llandudno to celebrate and recognise excellence and outstanding achievement by our businesses and individuals working in the tourism hospitality sector of North Wales.
With over 220+ applications this year every nominee is a winner.  The standard of applications was exceptionally high and every nominee who entered is a winner with all playing a part in what has been a successful year for North Wales Tourism.
There are still some tickets available for the evening if you would like to attend please follow the link below to secure your place
http://www.shop.gonorthwales.co.uk/awards
---
Advertising Opportunities
Bedroom Browsers – Attractions Compendium
The publication is a spiral bound, A4 landscape brochure encompassing attraction leaflets/activity providers.  The brochure is distributed to all accommodation members of North Wales Tourism; Reference copies to all Wales and Border TICs; North Wales & North West Libraries; Tour operators for itinerary purposes; visiting journalists; exhibitions etc.
The attached information includes cost of including your leaflet in the publication, however front (inside) and back covers (inside and back) are also available (prices for these are on application).
If you require any further details please contact Eirlys Jones on 01492 539058 or eirlys.jones@nwt.co.uk
Great Days Out in North Wales Campaign
If you have not yet committed to advertise in the publication this year, it is not too late to do so.
The campaign includes a pocket style leaflet featuring: attractions, activities, discount vouchers and a colour coded map plus a dedicated website with downloadable leaflet and special offer vouchers, QR Code, promotion on our social media channels and consumer enews database.  We will also be attending Holiday and Travel Show, Manchester and the Holiday World Show in Dublin to promote what North Wales has to offer.
If you require further information about the campaign please contact Carol Beard on 01492 539068 or carol.beard@nwt.co.uk
---
Go North Wales Opportunity at Holiday World Show Dublin 2019
Go North Wales are reviewing options to exhibit at Holiday World Show Dublin.  With over 42k visitors at the show this is an ideal business opportunity to showcase your business to prospective visitors.  We have secured stand space at the event however we are limited and therefore spaces will only be secured on a first come first serve basis.
For further information please contact Deborah Nettleton/Eirlys Jones on 01492 539067/58 or email deborah.nettleton@nwt.co.uk / eirlys.jones@nwt.co.uk.
---
Updating your Details
Our website www.gonorthwales.co.uk continues to grow with web traffic to our site from all over the world we are currently up by 80% this year providing not only an in depth source of visitor information but also generating even more business for our members.
Please login and update your entry – remember this is your opportunity to showcase your business through the GoNorthWales website.  If you require a reminder of your login details please contact Anthony Woodhouse on 01492 539051 or email digital@nwt.co.uk.
---
Digital Marketing Opportunities

North Wales Tourism has a wide range of digital marketing opportunities including banner and block advertising on the GoNorthWales website with the opportunity to promote your product to an active, engaged and loyal online audience.
Maximise your exposure with a targeted advert on www.GoNorthWales.co.uk
GoNorthWales has built a loyal base of followers and now through effective social media and email marketing, our audience has confidence in our brand.
Digital advertising on GoNorthWales will mean your business will be seen by a wide range of potential visitors to North Wales.
This is a fantastic way to showcase your business and to standout to the visitors.
For further information please contact Carol Beard on 01492 539068 or email carol.beard@nwt.co.uk
---
Facebook/Twitter – Do you Follow Us
Don't forget, if you are on social media you can follow us on both Facebook and Twitter @nwtbiz @gonorthwales – so if you have any event news or offers, let us know and we'll promote it to our audience!
Facebook: https://www.facebook.com/gonorthwales
---
Bank of England Summary
The Bank of England Agent's Summary of Business Conditions has been published.
The following link is to the pdf file https://www.bankofengland.co.uk/agents-summary/2018/2018-q3
---

Less than 6 months until the digital age arrives
Making Tax Digital has been on the agenda for over three years, but now is less than 6 months away from compulsory implementation.
From April 2019, VAT registered businesses with a turnover above the current registration threshold (£85,000 for the 2018-19 tax year) will have to keep digital accounting records.
VAT returns for periods commencing on or after 1st April 2019 will need to be electronically submitted to HMRC using MTD compatible software.
What does this mean for you?
Put simply, businesses will now be required to keep their accounting records using accounting software. No longer will you be able to keep manual records, or manually submit a VAT return through the HMRC portal.
Whilst this may sound like an unwanted complication, there are a number of benefits which can be derived from a correctly implemented solution:
Improved business reporting
Management accounts throughout the year
Better cash flow management
Better supplier management
Cut admin >90%
Stop duplicate payments
Reduce internal and external fraud
Lower costs through growth
How can Salisburys help?
Salisburys can help with the transition to MTD.
From implementing suitable software and providing training, through to handling all your bookkeeping needs, Salisburys will be able to provide a solution.
Action should be taken today to plan for the looming arrival.
---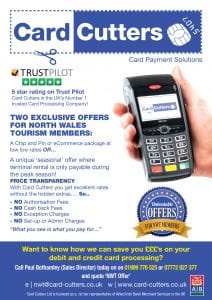 ---
JVP Group attracts the animal kingdom
Bodelwyddan based recruitment marketing and support specialist JVP Group is charging forward with its growth plans, securing a number of prestigious contracts with some of the UK's best loved zoos and leisure attractions.
In early 2018, JVP were appointed to support the HR team at Twycross Zoo in Leicestershire with developing and managing their in-house recruitment function, with vacancies ranging from Visitor Experience roles to Animal Keepers, along with professional and office support positions.
The fast-growing business has also recently secured a contract with Longleat in Wiltshire to deliver a talent attraction strategy for over 200 recruitment advertising campaigns, for job vacancies across Longleat's diverse portfolio of attractions.
The contract wins have been a direct result of JVP Group's continued success supporting employers within the animal kingdom and wider leisure, tourism and hospitality sectors.
Over the past 12 months JVP has extended its comprehensive and tailored service offering, introducing a range of additional solutions focused on saving employers even more time with the recruitment process, and helping promote a professional and positive employer brand.
These recent service enhancements have proved great benefit to Twycross Zoo, with in-house recruitment support including a fully managed recruitment helpdesk, application management and assessment, along with improved talent attraction through enhanced employer brand development and extended audience reach.
Karen Clarke, Chief Operating Officer at Twycross Zoo said "Here at Twycross Zoo we have an ambitious 20-year masterplan, and to achieve this we need to attract more fantastic people to our organisation as we continue to grow.
"We engaged with JVP six months ago and already we've seen the huge benefits in the quality of applications, the time-saving support we've received, and the technology which is ensuring an efficient process for everyone."
In addition to Twycross Zoo and Longleat, JVP has developed an impressive portfolio of high-profile clients across the UK including Arriva TrainCare, Boots Hearingcare, NSPCC, Luxfer Group and Business Wales.
Cath Harrison, Founder and Managing Director of JVP Group, said: "Whilst we support a wide range of sectors, the leisure industry and particularly the animal kingdom, is becoming a specialist area of significant growth at JVP.
"The world of HR and recruitment is constantly evolving, particularly in relation to technology, social media, and the importance of employer branding. As the landscape changes, we adapt our services to ensure our clients achieve the best results for their recruitment campaigns and in the most efficient manner.
"We've recently invested in the development of a fresh new website www.JVPGroup.co.uk, to showcase our enhanced solutions and how we work with employers to attract the very best talent, significantly reduce the time spent on recruitment administration, and minimise their recruitment spend."
NOTES TO EDITORS
For more information, please contact Sion Jones – Head of Marketing at JVP on 01745 774 955 or email: sion@jvpgroup.co.uk
JVP works closely with UK employers, providing comprehensive support to help them attract, assess and manage quality talent.
JVP's marketing and time saving solutions for in-house recruitment support includes; employer branded advert writing; multiple job board advertising; social media vacancy marketing; access to cloud-based applicant management software; fully managed pre-employment skills, knowledge and psychometric testing; applicant pre-screening; website careers page development; and recruitment helpdesk management.