With its thriving food and drink sector, James Wright, MD at Aber Falls Whisky Distillery, discusses why his home turf in Wales is the perfect setting for business and pleasure.
Tell us a bit more about yourself – what inspired you to set up your own distillery?
Around four years ago, Halewood Wines & Spirits – the business I've worked at for more than 10 years – diversified its portfolio by investing in whiskies from Scotland and beyond. At the time, whisky's appeal was on the rise with drinkers discovering new distillers from whisky producing countries within the UK. So, when the opportunity arose to run a distillery on my doorstep in North Wales, I jumped at the chance. Of course, working close to my family home was a huge benefit, but I was most excited to resurrect the proud tradition of distilling in North Wales – Aber Falls is the first of its kind in the region for more than a century.
Why did you choose to base yourself in North Wales?
Aside from living down the road from the distillery, I saw a significant opportunity to build a successful business in North Wales; strong transport links and scenic road routes make the country ideal for both commercial traffic and tourists. When you combine this with an engaged and supportive government looking to push the Welsh produce story, and access to local labour and skills, it's a very compelling package.
What is your most challenging part of the day?
Every day a new challenge comes knocking, but having an entrepreneurial spirit means I've never been one to shy away from it, in fact it keeps things exciting. The biggest test for me is ensuring there's enough hours to get everything done. Being the Managing Director of a distillery is much more than just making the liquid and going home; it's about being innovative to stay ahead of the curve, whilst staying true to the brand's roots.
Aber Falls' overall objectives are to produce 'the best whiskies and spirits using the finest ingredients sourced directly from Wales'; establish a Welsh whisky category, creating a sustainable supply chain in the process; operating as a dual language business with local employees, and becoming a keystone business for Wales to help increase the tourism opportunities in the area. So, it's safe to say there's a fair amount to balance.
What is your most enjoyable part of the day?
My greatest passion is my team. Watching them work together and seeing how they enthuse about the process of making whisky is wonderful to see. Their enthusiasm really is the secret to making this business work and the reason we've received so many accolades in such a short space of time. From the distillers behind the scenes, right through to the more customer facing role of our head tour guide. They're all setting the groundwork for a lot of good things to come.
You've just won a Wales Start-Up award, what would you say is the secret to your success?
It's an honour to have won the award, being up against such great competition made the win feel even more credible. But the secret to our success? It's a combination of determination, passion and resilience; creating new liquids doesn't come without its setbacks from experimenting, but it's all about learning and developing from these. Whilst I only believe in can rather than can't, you do have to realise that sometimes not everything will work and that's ok.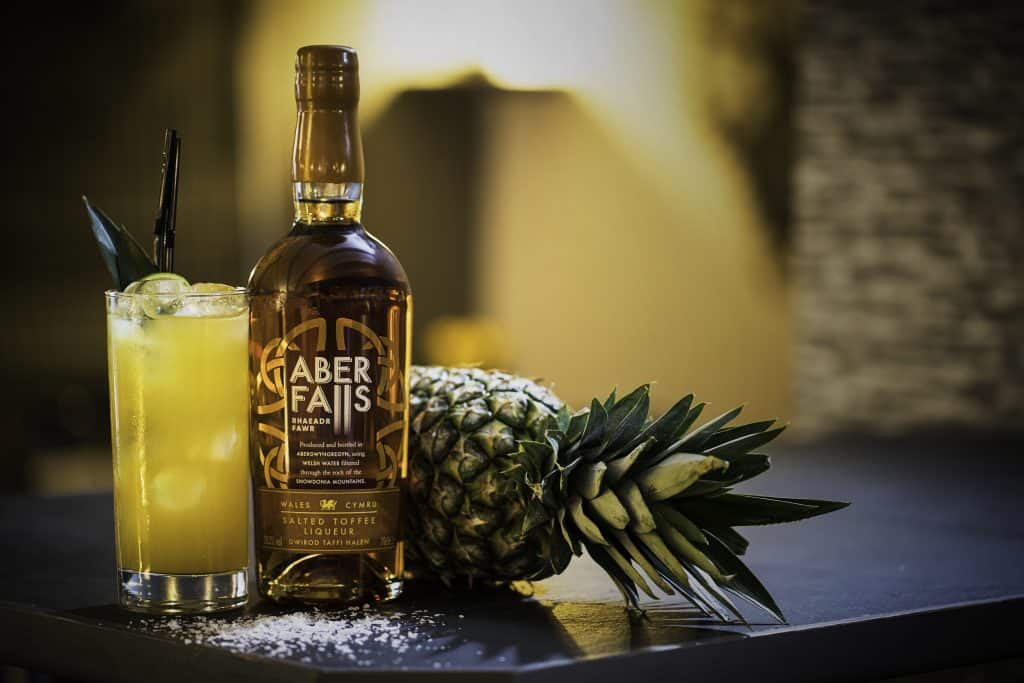 What does the future look like? (we know you're aiming for a sustainable future when it comes to welsh whisky production – can you expand on this?)
For the distillery, it's about cementing our footprint regionally, while expanding on opportunities nationally but internationally too. We've worked hard to build strong links with some of the region's finest producers to create an experience with alcohol that all will enjoy. As far as a sustainable future for Welsh whisky, we want to be the front runner for this by being as native as possible, which means ensuring we have sustainable supplies as our market expands. As an MD, you have to take a long-term view and adopt a strategy that will help sustain the business in the future by working more with local businesses to encourage tourism to the region and putting Welsh whisky well and truly on the map.
Favourite tipple?
Whisky just so happens to be my preferred tipple – I've always enjoyed Whisky Spring Bank from Campbeltown. In my mind, whisky is best enjoyed neat whilst sat in my armchair, especially after a long day's work in the distillery.
But when it comes to gin, there is a whole plethora I enjoy, depending on the time, place and mood I'm in. With the variety that's out there nowadays I would never limit myself to one specific gin because that way I wouldn't be experiencing all the newcomers that are available – and taking inspiration from others in the industry.
What's next?
We've got lots of exciting activities in the pipeline, including a new innovative Visitor Centre coming in the New Year, which is really going to help the business thrive and grow and give visitors the chance to see the exciting work that happens at the distillery on a day-to-day basis. The Visitor Centre will also support our main goal of being a catalyst in bringing tourism to North Wales. We hope to achieve a huge buzz around this in the New Year. Waiting in the wings is also the launch of our first single malt whisky. All in all, it's an exciting future for Aber Falls.