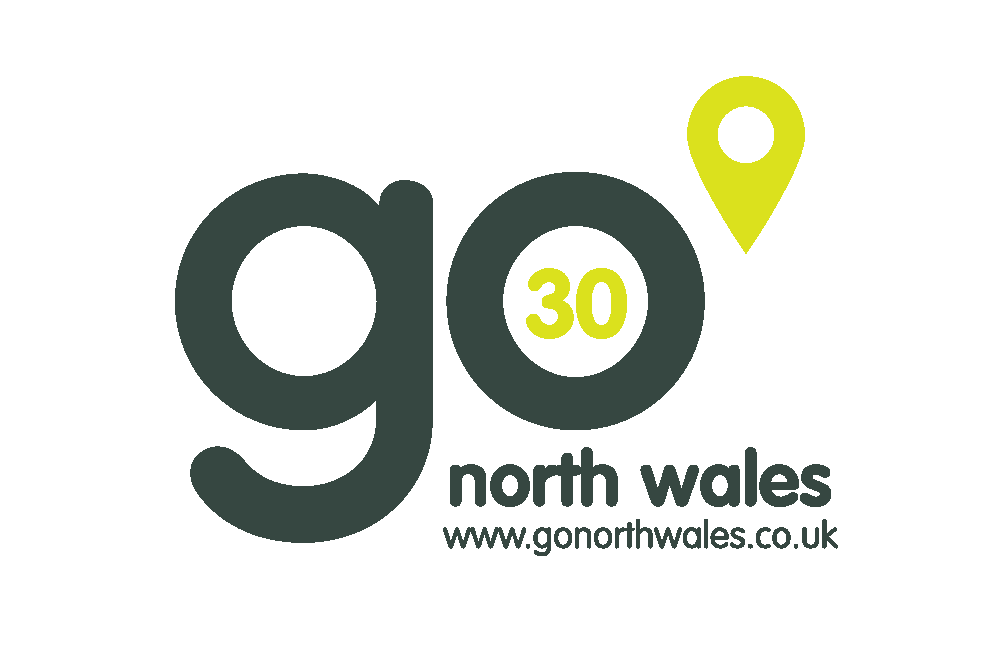 We appreciate that it remains to be an extremely difficult, worrying and complex time for many businesses and individuals across North Wales with the COVID-19 pandemic but please remember that we are here to support you.
If you have any questions/queries please do not hesitate to contact us, by email (contacts below), social media channels, online chat on the Trade website or phone. Please email jim.jones@gonorthwales.org.uk; eirlys.jones@gonorthwales.org.uk or deborah.nettleton@gonorthwales.org.uk with any issues etc you may have.

Please also make sure that you are kept up to date with all the information as they happen by visiting our Trade site www.northwalestourism.com and following us on our NWTBiz social media platforms (facebook and twitter), all of which are regularly updated.
Keep safe, we're in this together.
Website listing – Updating your Details
Your individual listing on our website is your main opportunity to present your business to the public. However, like any advertising it must be regularly maintained to ensure that it is correct, current and really works for you.
When did you last check it?
When did you last update it?
Are your pictures great?
Is your listing better than that of competitors?
Please login and update your entry on http://update-my.gonorthwales.info. If you have forgotten your password please click on the "forgotten your password" link and enter your registered email address (to reset). If you can't remember your registered email address, please call 01492 531731 (option 5) and ask for a member of the digital team alternatively email digital@gonorthwales.org.uk or visit https://northwalestourism.com/go-north-wales/update-your-go-north-wales-listing/ for assistance with updating your details
Facebook/Twitter – Do you Follow Us
Don't forget, if you are on social media you can follow us on both Facebook, Twitter and Instagram @nwtbiz @gonorthwales – so if you have content that you would like us to share, let us know and we'll promote it to our audience! If possible please link to our destination platforms in your posts so that we can see you and share. Social Media and digital marketing are very important parts of the modern marketing mix and a great way to get your business promoted. Remember, we can't share your social media stories if we don't know about them.
NWTBiz Facebook Forum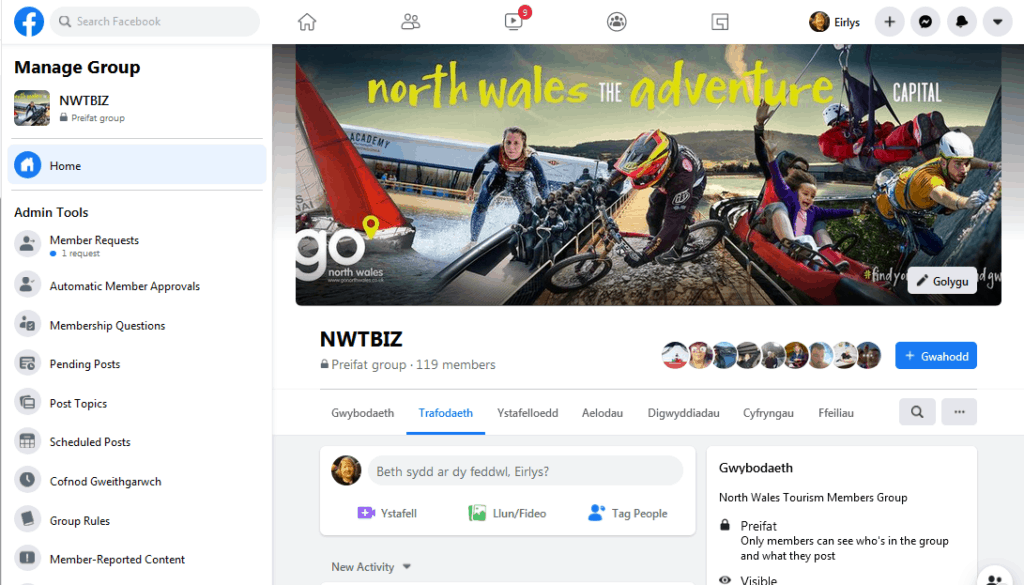 We have a closed Facebook group specifically for members where you can discuss issues, ask for help as well as support each other in our collected aim to make our region one of the top UK tourist destinations. You will need to request to join this by searching NWTBiz and we will accept you as a member.
Special Offers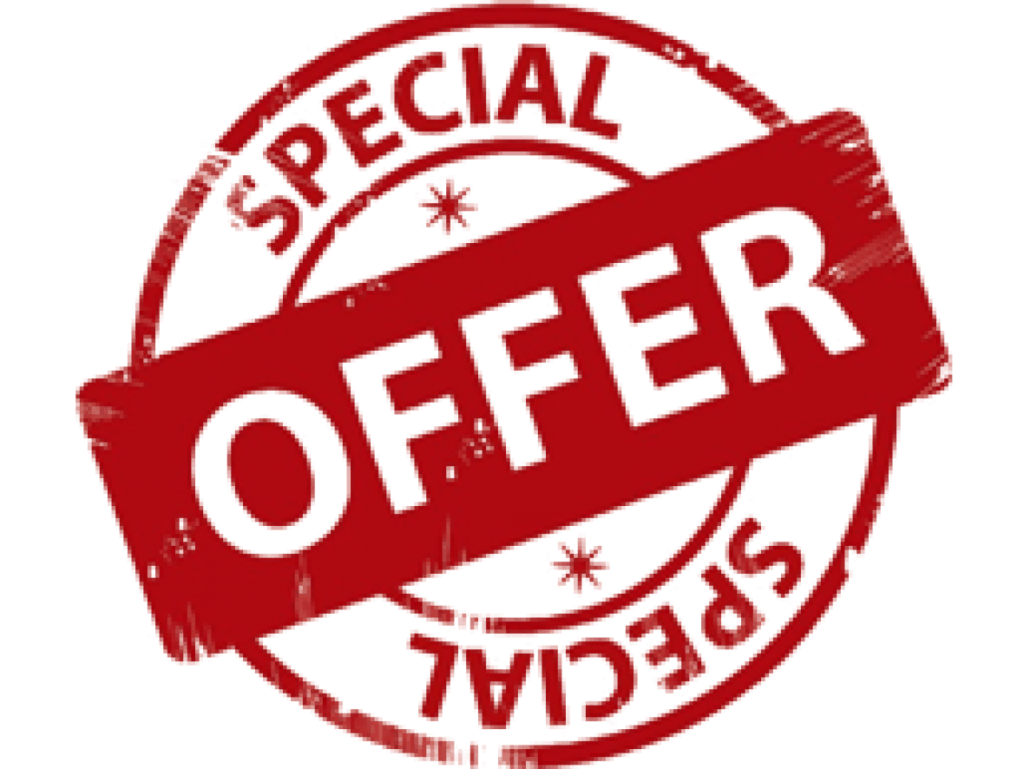 All members can create special offers at no cost. They show on the special offers page on the gonorthwales website and it is another sales opportunity that is free to use. At present this facility is under used. If you would like to submit your offer to include on our website please follow the link http://submit-offer.gonorth.wales/
Banner Adverts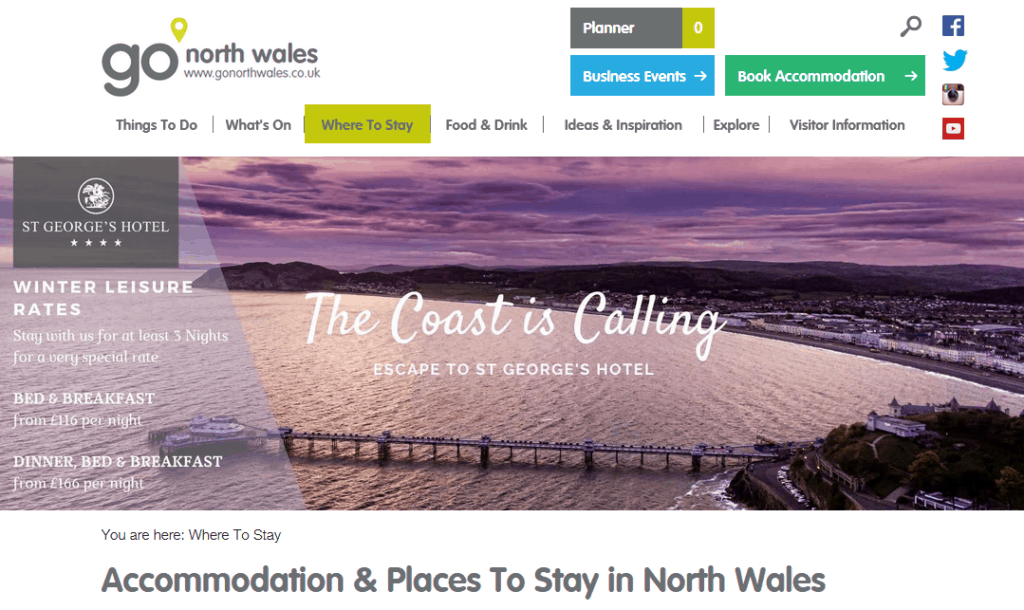 These are adverts, separate from your normal web listing that show on the home page and the sub- pages. Adverts cost from £200 and when clicked the user is taken to a location defined by the advertiser, usually the member's own website, rather than your page on our site. For further information on banner advertising please contact digital@gonorthwales.org.uk.
Let's Keep In Touch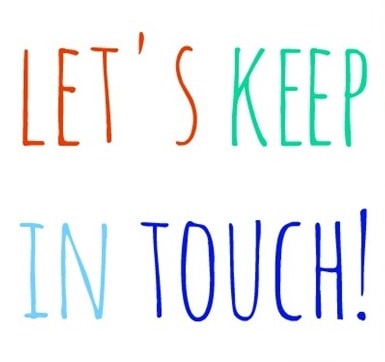 Our main means of communication with you, our members, is by email. We send out regular email messages to all members or to specific sections of the membership. We try to restrict the number of emails to key topics but also send out regular newsletters covering minor topics. Old copies of newsletters are available online.
In addition to emails, we post short-term news on our closed Facebook Group.
The members website is another important source of information. Do look at it regularly for information on training courses, offers and discounts, forthcoming meetings and reports on past meetings. You will also find information about membership, managing your web page, details of the Board, latest research documents and strategies and much more.
Tell us your news
Do keep us informed about your business.
If you send out press releases or newsletters, do ensure that we are on the distribution list – digital@gonorthwales.org.uk
Tell us about business developments, any new plans you may have and your successes.
Obviously we like to hear what you are doing, but more importantly we use the information to promote your business and the area in the following ways, all of which are free to you.
Social Media
We have a news page on our website. We are regularly publishing articles each week and most are news from our members.
Inclusion in our regular members' newsletters
Go North Wales Tourism Awards 2021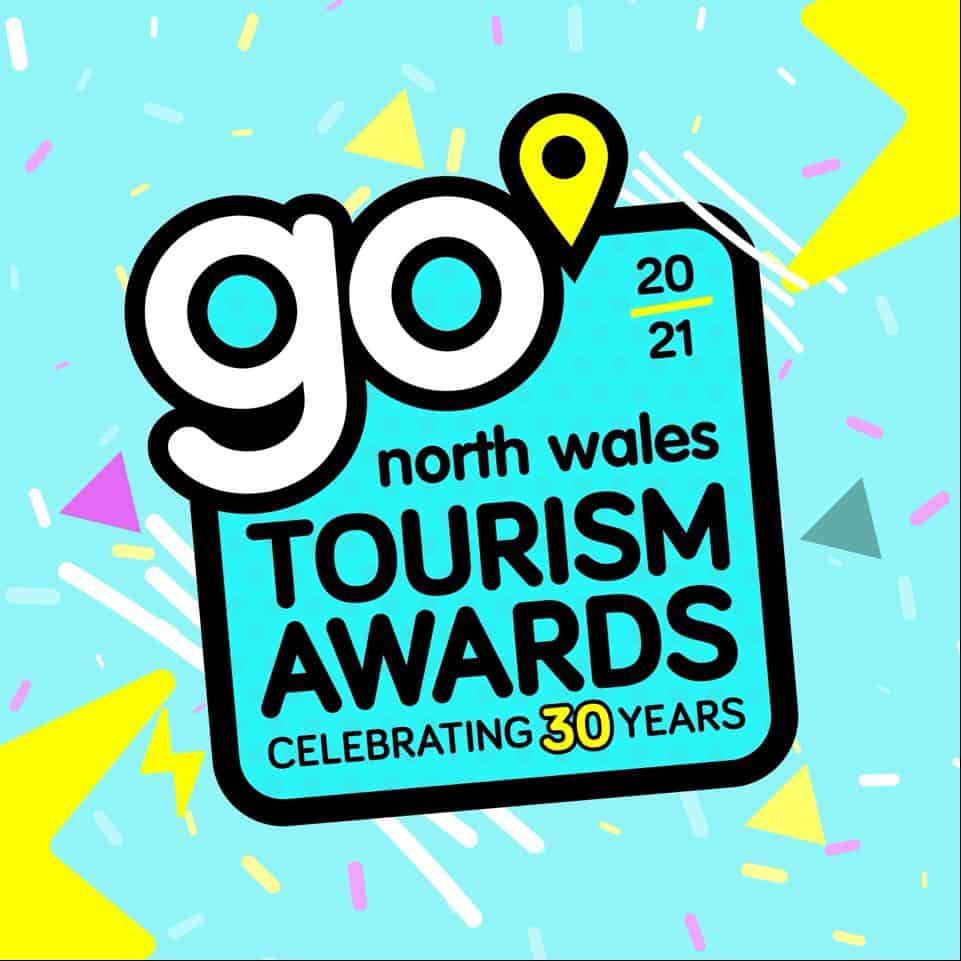 Adventures in North Wales Podcast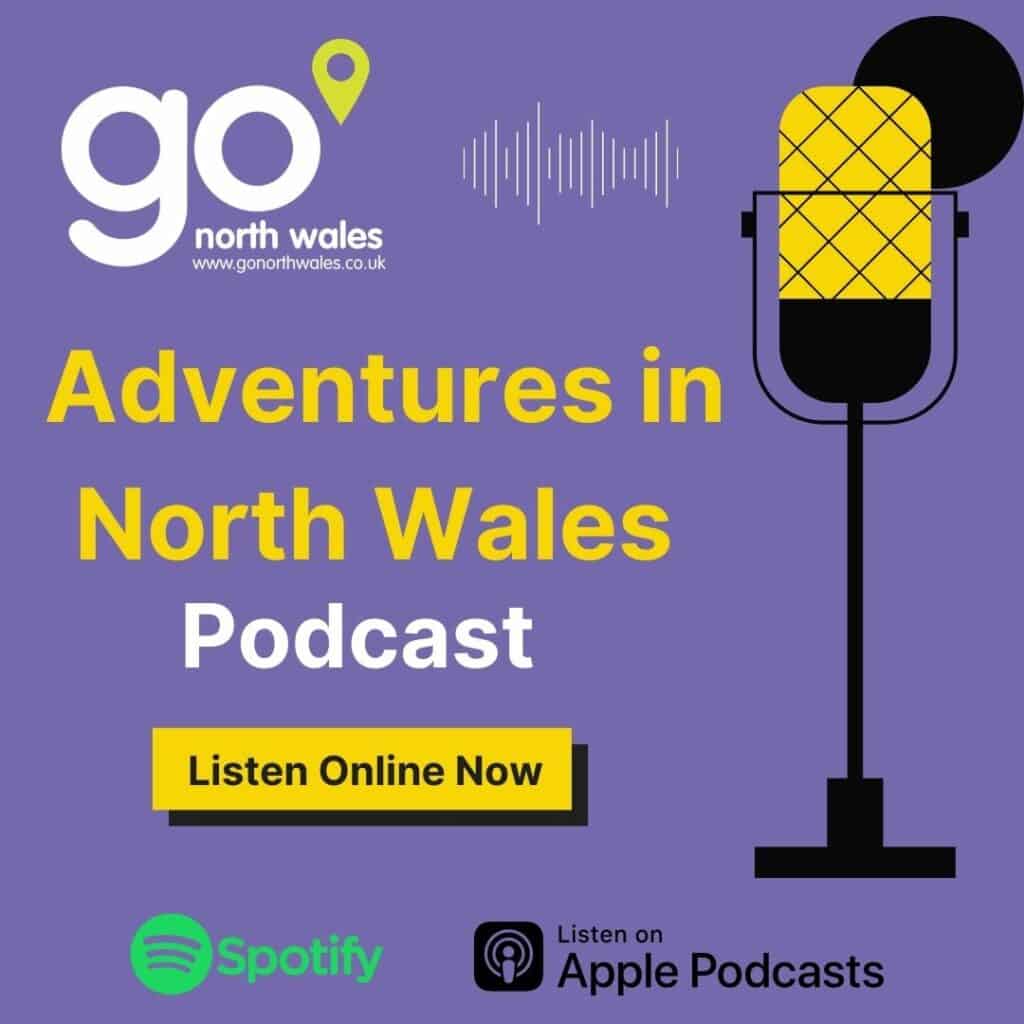 We have added some more episodes to our Adventures in North Wales Podcast series covering:
Adrenaline and Adventures
Heritage & Arts
Food & Drink
Gardens & Landscapes
Beaches & Coastlines
Listen to Megan Llyn discover why North Wales is the best place to find your next adventure.
COVID-19 Economic Resilience Fund (ERF) Business Support
Applications for the ERF with a turnover of more than £85,000 are now closed. Local Authorities across Wales have opened applications for those businesses that are eligible with a turnover of less than £85,000. This grant application will remain open until 9 August 2021.
https://businesswales.gov.wales/coronavirus-advice/
NTG Tourism Sector Skills Toolkit
The Tourism Sector Skills Toolkit consists of a set of resources with guidance notes on how they can be used by educational establishments, training providers, employers, government departments, and individuals to enable them to review the green, social and digital requirements within the hospitality and tourism sector and to use the toolkit to support them in developing and/or updating their resources.
The Tourism Sector Skills Toolkit can be used to:
Map against existing training and qualifications, job profiles, training needs analysis, job descriptions, responsibilities, tasks, etc. for the stakeholder to identify skills, knowledge, and behaviors already present and identify gaps.
Inform and support the development of curriculum and training programmes within educational establishments, training providers, employers' training, and HR departments.
Inform and support developing job profiles, recruitment campaigns, development, and training plans.
Show skill and knowledge requirements that may be required in order to progress within or move between sectors/roles.
Access useful examples to contextualise the data and help give insight as to how the skills and knowledge can be used by training providers, employers and individuals.
Provide training providers and employers examples of good practice and resources.
New smoke-free requirements are coming on 1 March 2022
The Welsh Government introduced new smoking legislation in Wales on 1 March 2021.
For the tourism industry, the new laws mean that the current exemption to the smoking ban which enables smoking to take place in self-contained holiday and temporary accommodation as well as in designated smoking bedrooms in hotels, guesthouses etc. will end on 1 March 2022. The measures, designed to denormalise smoking and protect more people from the dangers of second-hand smoke, mean that from 1 March 2022, it will be against the law to smoke in these areas and fines could be issued.
All types of self-contained accommodation will be covered by the new smoke-free requirements such as cottages, caravans, chalets and Airbnb's. All hotels, guest houses and inns etc. will also be required to be smoke-free all of the time and will no longer be able to provide designated smoking bedrooms. In preparation for the introduction of the new requirements on 1 March 2022, all owners should prepare to convert any of their smoking accommodation/ designated smoking bedrooms to smoke-free. 'No Smoking' signs will continue to be required in a hotel, guest houses etc. Signs could also be displayed in self-contained holiday or temporary accommodation if the owner wishes.
Welsh Government have published guidance on the changes, and you can find details on the changes affecting the tourism industry on https://gov.wales/smoke-free-law-guidance-changes-march-2021-html#section-58258
https://businesswales.gov.wales/news-and-blogs/news/new-smoke-free-requirements-are-coming-1-march-2022
Right to Work Guidance Updated
The Home Office has updated the Right to Work Guidance for employers which relates to the need for employers to check the status of non-uk nationals to make sure that they are legally able to work in the UK. As a result of the government's announcement on 14 June 2021 to extend the date for the easing of lockdown restrictions and social distancing measures, the temporary COVID-19 adjusted right to work checks will now end on 31 August 2021. From 1 September 2021, employers will revert to face-to-face and physical document checks as set out in legislation and guidance. This will ensure employers have sufficient notice to put measures in place to enable face-to-face document checks.
https://www.gov.uk/guidance/coronavirus-covid-19-right-to-work-checks
Business Wales Town Centre Entrepreneurship Fund
The Welsh Government has launched the Town Centre Entrepreneurship Fund as a pilot programme to provide financial assistance for entrepreneurs and businesses who are looking to start and grow a business in one of four town centres across North Wales – Bangor, Colwyn Bay, Rhyl and Wrexham.
This fund will be available as a discretionary grant of between £2,500 – £10,000 per business to support with the revenue costs associated with starting up in or relocating to a town centre.
In order to access the fund, you must submit an Expression of Interest form (available to download below) and register with Business Wales. You will then be assigned a dedicated Business Adviser who will support and guide you through the full application process.
The Business Wales Town Centre Entrepreneurship Fund is open to applications until 20 June 2022, funds permitting. If funds are used up before this date the scheme will close.
https://businesswales.gov.wales/business-wales-town-centre-entrepreneurship-fund
North Wales Apprenticeship Awards
Congratulations to Sion Wyn Owen the winner of the Apprentice of the Year – Hospitality Award, sponsored by Go North Wales https://awards.gllm.ac.uk/awards/hospitality
Details on the fifth Self Employed Income Support Scheme announced
Businesses eligible for the fifth grant of the SEISS based on their tax returns will be contacted by HMRC from mid-July to give a date that the claims service will be available from.
It will be given either by email, letter or within the online service. The online service to claim the fifth grant will be available from late July 2021 and the claim must be made on or before 30 September 2021.
https://www.gov.uk/guidance/claim-a-grant-through-the-self-employment-income-support-scheme
Changes to self-isolation for fully-vaccinated adults
All adults who have been fully-vaccinated will no longer have to self-isolate if they are identified as close contacts of someone with coronavirus from 7 August.
Children and young people under 18 will also be exempt from the need to self-isolate if they are also identified as close contacts of a positive case. But everyone who tests positive for coronavirus or has symptoms must continue to isolate for 10 days, whether they have been vaccinated or not.
https://gov.wales/changes-self-isolation-fully-vaccinated-adults
All Hands to the Pump
Free resource to support those working in or with the licensed trade, featuring free to access, quality webinars, events, training and resources for licensees, regulators and place managers from hospitality partners.
Coronavirus impact on hospitality
ONS has published research on the impact of coronavirus on the hospitality sector from January 2020 to end of May 2021.
https://www.ons.gov.uk/businessindustryandtrade/business/activitysizeandlocation/articles/coronavirusanditsimpactonukhospitality/january2020tojune2021
Helo Blod – Welsh Language Support
Helo Blod is a free, fast and friendly Welsh translation and advice servuce that will help businesses use more Welsh in your business. Helo Blod can provide free translations, text checking advice and guidance, and merchandise such as alnuards and badges, which let customers know staff can speak or are learning Welsh. For further information www.llyw.cymru/heloblod.
A new World Heritage Site for Wales
The slate landscape of north-west Wales has been added to the UNESCO World Heritage List, making it the fourth World Heritage Site in Wales.
The new World Heritage Site is a serial property in six parts including spectacular quarry landscapes such as Penrhyn, Dinorwig, the Nantlle Valley and Ffestiniog. It also includes the National Slate Museum in Llanberis, Penrhyn Castle and the famous Ffestiniog and Talyllyn Railways, built to transport the slate from quarry to markets around the world and both later transformed through the dedication of volunteers into heritage railways.
Full details of the new World Heritage Site can be viewed on its dedicated website: Wales Slate: World Heritage Site Bid