North Wales Tourism has always been about bringing people together, working together, consulting with our members, lobbying hard on your behalf and trying to carve a sensible path through the demands of the Welsh Government and the public sector. I hope you agree that our team led by Eirlys, our Commercial Director, have done a great job of keeping you updated.
Over the last few months we have been called upon like never before. We have gathered a dossier of heart-breaking stories from across the board as you have struggled to adjust and cope through the Covid19 pandemic. We found it particularly unfair how a number of local authorities, guided by the Welsh Government, took it upon themselves to make life as difficult as possible for our self-catering businesses.
The more recent threat is to the restart to our sector where there has been a total lack of communication. We expect the reopening to be staged over a number of weeks, but our reasonable request to have dates to work to was ignored. Nearly four months into this crisis we are still waiting for dates for our hospitality sector and indoor attractions. We will keep asking, in the hope we will see something of a summer season.
We disagree with the Welsh Government's recent announcement that splits our tourism and hospitality sectors. We have always held the view that they are intrinsically linked – you can't have one without the other.
You may have seen some high-profile examples of us raising our concerns with the Welsh Government. Our Chair, Chris Frost, shared an open letter to the First Minister (https://northwalestourism.com/coronavirus-covid-19/open-letter-to-fm/) on 11 June and we conducted a research survey with members, with support of the North Wales Mersey Dee Business Council. Both reflected the seriousness of the impact of lockdown and the lack of certainty and direction around reopening. The latter was fast-paced and carried out in just two working days and we were overwhelmed by the rate of response. (https://www.business-live.co.uk/retail-consumer/open-sites-extend-furlough-change-18444118).
Most recently on 24th June we added our signature to another letter to the First Minister on behalf of 10,000 tourism businesses across Wales. (https://northwalestourism.com/coronavirus-covid-19/letter-to-first-minister/)
Our duty is to you, our members. It means we frequently disagree with the position of the Welsh Government, especially of late, and as uncomfortable as that can be, you can be certain we will continue to be your voice.
For those in the sector who are finally allowed to prepare for opening, we wish you the very best and hope you are able to recover something of the 2020 season. We are still here for you and will help in any way we can. We will also continue to fight for many other businesses who are still left in limbo and are yet to find out if they are likely to reopen. We recognise the huge efforts you are making to prove you can deliver safe experiences for your staff, community and visitors and we will continue to make your cases heard.

It's natural for there to be some anxiety about how are visitors will be welcomed back to North Wales. We can assure you our GoNorthWales messaging and marketing will be warm and welcoming and remind our visitors just how valuable they are to us.
Please keep posted on any developments on our Trade site www.northwalestourism.com and on our social media platforms (facebook and twitter) NWTBiz which is regularly updated.
Keep safe, we're in this together.
North Wales Tourism Annual Trade Meeting /
A Virtual Annual Trade Forum
Wednesday 1st July 2020 at 10am
If you haven't yet registered it's not too late to do so.
The meeting will commence with our Business Meeting and will follow with our Guest Speaker, Andrea Knox a Business Law Specialist who will talk about "Tourism Businesses in Difficulty – What To Do & What Definitely Not To Do!"
To register for this event please email eirlys.jones@nwt.co.uk who will forward you the access details to the virtual meeting.
Updating your Details
Our website www.gonorthwales.co.uk continues to grow with web traffic to our site from all over the world providing not only an in-depth source of visitor information but also generating even more business for our members.
Please login and update your entry – remember this is your opportunity to showcase your business through the GoNorthWales website. If you require a reminder of your login details please contact Anthony Woodhouse on 01492 539051 or email digital@nwt.co.uk.
If you would like any advice on any aspect of your digital activities please let us know by emailing digital@nwt.co.uk – we're here to help!
Facebook/Twitter – Do you Follow Us
Don't forget, if you are on social media you can follow us on both Facebook, Twitter and Instagram @nwtbiz @gonorthwales – so if you have content that you would like us to share, let us know and we'll promote it to our audience!
NEW Closed NWTBiz Facebook Group
For NWT members only – a new NWTBiz Facebook Group has been created to share information and network online. To join simply ​search NWTBiz through facebook and request to join.
Offers / Deals / Promotional Campaign
When businesses do eventually return to normal we would like to be ready with a campaign with offers/deal/promotions etc, for marketing on our social media and website channels.
If you would like to be part of this campaign please submit your offer by following this link http://submit-offer.gonorth.wales/
We will concentrate on inbound tourism only for the remainder of this year, we all know North Wales has a proven track record for the best in fresh air, country walks, rural locations and beaches etc. and I think we all know how much everyone is appreciating this right now.
Send us Your stories
We would love to hear from you regarding the following
What have you been doing during this period e.g. renovations, planning?
What plans have you put in place for re-opening your business safely?
Have you changed/modified your business in light of the current situation?
Anything else that would be useful to tell your story
Email your story over to digital@nwt.co.uk
Calling All Accommodation Members
All accommodation operators – you are aware we do not do bookings on our website however we encourage the customer to GO DIRECT to you as we feel you pay enough to the booking channels in commissions, we kindly ask if you would be happy to show the GO DIRECT banner on either your website or at the foot of your email etc, in fact please promote it in any way you feel fit.
To download this logo please click here
Good To Go / Barod Amdani
Visit Wales are launching a 'Good To Go/Barod Amdani' scheme on Friday; it will be a free accreditation scheme for all tourism and events businesses to give customer confidence that we are Covid-aware – you do not have to be VW accredited to apply. There will be a 14 question online assessment and you will need to undertake a risk assessment and you will receive a certificate (downloadable) as well as other digital certifiers. The website – goodtogowales.com – will go live next week. All information will be on the Visit Wales website and WTA website on Friday and of course we will post to our own website (https://northwalestourism.com/business-support/coronavirus-updates/) under the Covid section as has happened with other announcements.
Economic Resilience Fund – next phase open Monday 29 June (lunchtime)
Businesses can now find out if they are eligible to apply for financial support from the next phase of the Welsh Government's Economic Resilience Fund (ERF).
The online eligibility checker is live and businesses will be able to make applications for support from this phase of the fund. The ERF is designed to support businesses, social enterprises and charities, which are not eligible for other Welsh Government and UK Government support schemes.
The next phase of the fund will enable businesses to access a further £100m of financial support. It is being targeted at microbusinesses, SMEs and large businesses of critical economic importance, which have yet to receive financial assistance from the ERF.
Applications are currently expected to be open around the 29 June.
https://fundchecker.businesswales.gov.wales/
Business Rates Relief Scheme – 30 June deadline
Businesses are being reminded to apply for business rate relief before the scheme closes at the end of June. Local Authorities are urging businesses to apply for the Welsh Government's Business Rates Relief fund before June 30 when applications close. Any applications received after the deadline 30 June 2020 will not be considered.
Some businesses have been telling us they did not think they were entitled to a grant. However, businesses who have received a business rates bill with nothing to pay and are entitled to small business rate relief are, in most cases, still eligible for a grant. The majority of businesses yet to apply are in this category and our advice is for you to visit your Local Authority website and see if you fit the criteria.
https://www.anglesey.gov.uk/en/Business/Business-Finance-and-Grants/Welsh-Government-Business-Grants-COVID-19.aspx
https://www.conwy.gov.uk/en/Business/Apply-for-Welsh-Government-business-support.aspx
https://www.denbighshire.gov.uk/en/business/business-rates/
https://www.flintshire.gov.uk/en/Business/Business-Rates/Business-Rates-Covid-19-Advice.aspx
https://www.gwynedd.llyw.cymru/businesscovid19
https://www.wrexham.gov.uk/service/covid-19-support-businesses
https://businesswales.gov.wales/business-rates-relief-in-wales
Welcome Back' for Tourism
Busnes@LlandrilloMenai have devised a skills package specifically for Tourism businesses as they head into re-opening. It is part of their overall "remote learning" offer.
The Return Begins In Wales
Announcement from the Welsh Government
Non Essential Business return 22nd June 2020
Schools return 29th June 2020
5 Mile Restriction to be lifted 6th July 2020
We are here to support you every step of the way with:
Social Distance Products for Store layouts
Hand Sanitiser and face masks for customer and colleague protection
Unbeatable low prices and quick despatch
Whether you want to stock up on branded face masks or hand sanitiser for your team or want more safety signage for your premises (such as our popular floor stickers), we're here to help. With many of our social distancing items available for dispatch in as little as five working days, we've got you covered.
Welcome back to North Wales from Dylan's! |
Croeso yn ol i Gogledd Cymru gan Dylan's!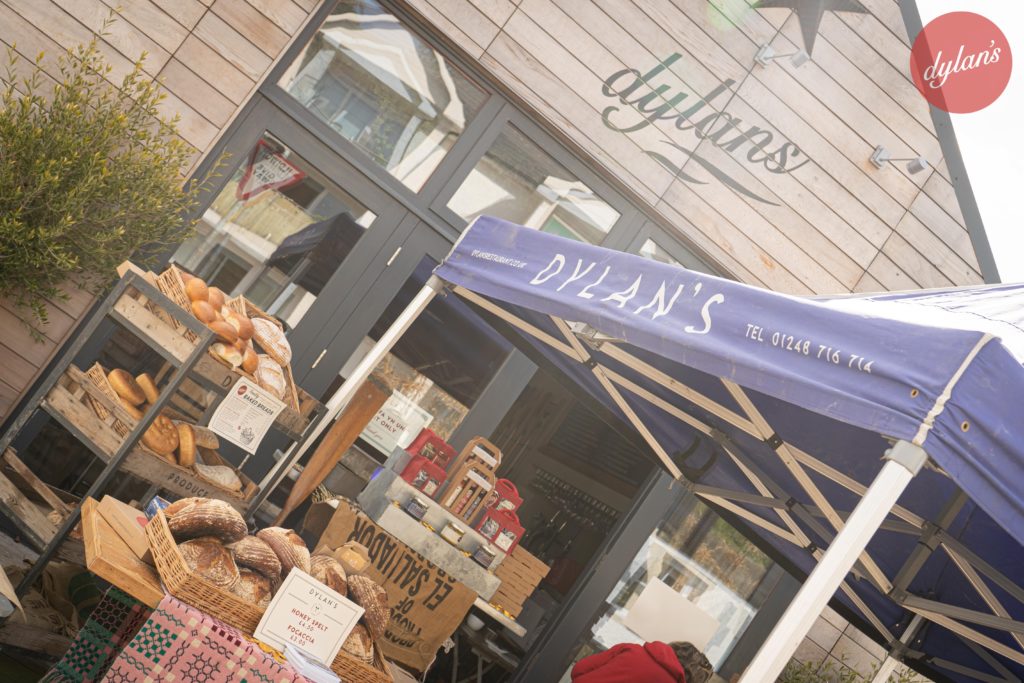 We've come up with a few ideas to help give returning visitors the best stay possible…….and to support you with a commission in place for sales to your customers.
As the hospitality sector prepares to open up again in North Wales, we hope it won't be too long before our restaurants reopen, but in the meantime , we've developed a couple of new ways in which your guests can enjoy an authentic taste of North Wales – and Dylans, without crossing our threshold!
TAKEAWAY – our chefs have been kept busy preparing all the menu favourites for customers to dine at home – full range of hand baked pizzas, chicken in a basket, and of course our great range of burgers – home delivery also available.
LOCAL PRODUCE MARKET – A fantastic array of fresh produce, including our own artisanal breads, still warm from the oven, Menai mussels, crab and lobster from the Llŷn Peninsula, local Welsh meats and cheese, with craft ales and local spirits,. The market takes place Saturday Mornings – 8.30 am – 3pm, at Dylan's Menai Bridge , with further openings in Criccieth in July.
3. CLICK AND COLLECT:
Dylan's Ready-to-Bake Pizzas: All our restaurant favourites, prepared and ready to pop into the oven. They're freshly made, and simple to cook – making mealtime easier for your guests. Alongside the ready-to-bake pizzas, there's a series of 'add-ons' including our ever popular Pizza and Prosecco offer, soft drinks and desserts

Dylan's Grocery Boxes: A who's who of local produce in North Wales, featuring produce from our favourite restaurant suppliers. If you are a self-catering operator and need to source grocery shopping for your guests prior to their arrival then our Grocery boxes are an excellent solution.

Simply provide your guests with an order link, and they can place an order online in advance, for both collection or delivery.
DYLAN'S BAKERY – Our new stand-alone bakery can provide all your bread and bakery needs. Anthony, our master baker and his team, can offer daily delivery of fresh, artisanal breads, including our famous sourdough pain de capmpagne, delivered to the doors of hotels, guest houses and bed and breakfasts across the region.
Let's talk about how we can help you and your customers to have a great time here in North Wales and say thank you to you for sending your customers to us. Drop Maria an e-mail maria@dylansrestaurants.co.uk and let's kick start our late summer season!
DWP/Careers Wales Virtual Rapid Response Service
The North and Mid Wales district of DWP have developed a virtual Rapid Response Service to enable us to support businesses and individuals during the COVID-19 pandemic.
The Rapid Response Service is all about working in partnerships to address the effects of job losses on individuals and on the local community. Our aim is to:
work with employers to deliver flexible, timely, and appropriate support for them and their employees
help people secure a job or move into self-employment quickly and ideally without the need to claim welfare benefits
The virtual service will be facilitated through a 1-2-1 outbound call service to all employees that wish to receive support. We will provide information and guidance on a range of redundancy related topics, provide insight on the current labour market and discuss next steps.
The virtual Rapid Response Service delivered by DWP covers the following areas,
Help and Advice on looking for work
Claiming Benefits
Where to go for Support
We will also signpost customers to additional/specialised support through our partnership network depending the circumstances/needs of the individual. We have strong working relationships with a number of organisations who can offer training opportunities, support with wellbeing/health conditions, financial advice and personal/private pension information, to name a few.
We work in partnership with organisations such as,
Other Government Departments
Careers Wales
Remploy
Money Advice Service
Business Wales
MIND
And a number of local provision providers
In response to the COVID-19 emergency a range of digital products have been developed to provide information on the support available through the Rapid Response Service – https://youtu.be/DCiVdsq_-MM
For further information please speak to Nigel Morgan, Employer Advisor, Department for Work and Pensions on 01492 613024 or NIGEL.MORGAN2@dwp.gov.uk .
Mike Hurdman Carpet Cleaning is back operational and ready to serve you in any preparations for reopening.
My unique specialised Dry Fusion carpet cleaning system hot cleans, deodorizes, stain protects and heat dries to your carpet using minimal amounts of water, all in the same process, making sure that your carpet looks as good as new.
I can offer a range of carpet cleaning services from spot cleans, room cleans, maintenance contracts, rug cleans and more all with the benefit being a whisper quiet system and having carpets dry from 30 minutes.
If you would like my services or wish to discuss any merits of the service, please get in touch.
Take a look at some recent reviews left on my Trustpilot page
Trustpilot https://uk.trustpilot.com/review/mikehurdmancarpetcleaning.co.uk
Simply email, message or call to discuss your requirements and I will book a suitable date and time to visit your premises or an estimate over the phone.
Special offers for NWT members. Call me now to see what I can do for you.
☎️ 07809 615496
☎️ 01492 548436
? mikehurdmancarpetcleaning@gmail.com
Useful Websites